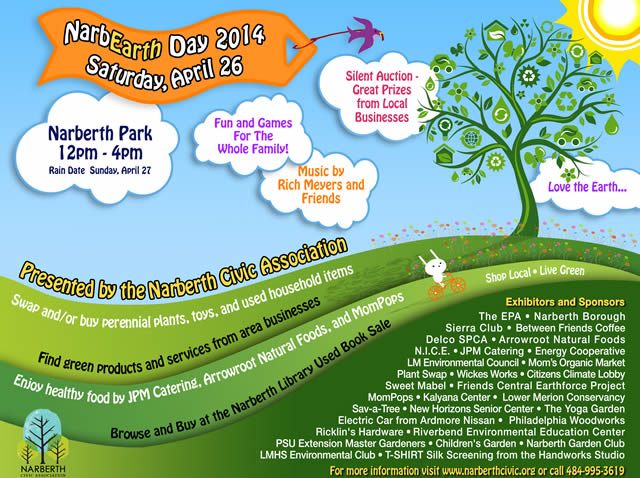 Looking for a fun, free, educational event this weekend? Where you can taste a milkshake whipped up by a bicycle-powered blender, check out an electric car and trade cool stuff like plants, household items and toys?
Then come on down to Narberth this Saturday for the 25th annual NarbEarth Day Celebration!
It's all happening in Narberth Park, right next to the Narberth Community Library, on Windsor Avenue, walking distance from downtown and the train station.
Highlights include live music, games, demonstrations and a silent auction for goods and gift certificates from area businesses. Be sure and check out the Children's Garden while you're there, where the kiddies can help plant flowers and watch them grow all summer long! Local environmental organizations will also be on hand to answer questions and provide educational information.
If You Go
Make sure you come hungry! Nutritious, locally-sourced food and beverage selections will be available for purchase. And don't forget to bring perennials, used toys, household goods or eyeglasses to swap or donate. Who knows? Maybe you'll get lucky and find a treasure to take home yourself!
Don't miss a stroll through Narberth's charming downtown! You'll find oodles of interesting, locally-owned shops and businesses to tickle your fancy, (including a five and dime) whether it's food, ale or shopping you crave, and some are even dog- friendly. Sweet!
Cost: FREE!
Parking: Metered parking is available at the train station and other municipal lots, while free parking is available on the many residential side streets around town. Better yet, leave the car at home and walk, bike or take the train. The festivities are happening right around the corner from the Narberth station!
NarbEarth Day Celebration
Windsor Avenue, Narberth, PA 19072
Saturday, April 26
Noon – 4 pm
Rain Date: April 27, 12 Noon – 4 pm
Sneak Peek
Want to see the festival in action? Check out a video of last year's celebration. For more information, visit the Narberth Civic Association website.