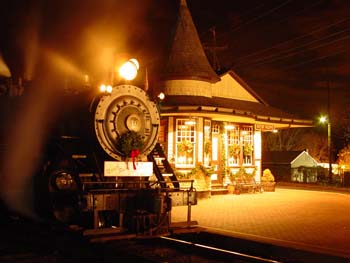 Hop aboard the New Hope and Ivyland Railroad Dinner Train for a first-class treat the whole family will enjoy this Sunday! You'll be seated in a restored vintage passenger coach pulled by an authentic steam locomotive as you meander through the glorious rolling hills and valleys of the Bucks county countryside, the same route filmed in the "Perils of Pauline" silent movie series. Professional photos will be taken on board if you want to bring home a souvenir!
Ticket prices include a three-course meal, all taxes and gratuity, and a scenic, round trip train ride (about an hour) to Lahaska.
Can't make Dinner? No worries, the railroad offers scenic 45-minute train rides all year round (weather permitting). For more information, call 215-862-2332 or visit the New Hope and Ivyland Railroad online.
Menu
Menu choices for the evening include salad, garlic bread, baked ziti with meatballs, chicken parm, lasagna Bolognese and ravioli with browned sage, walnut and butter sauce, mac and cheese for the kids and dessert. Cash bar is available aboard the train.
Tickets
Reservations are required. Purchase tickets in advance at the station or online. Adult tickets are $34.95 and child tickets (ages 2-11) are just $27.95.
Insider Tips
Don't be late! Boarding begins at 5 p.m. and the train departs promptly at 5:30, returning to the New Hope station at 6:30 p.m. Dressy casual attire is suggested and professional photos with the conductor will be available for purchase on-board. Paid parking is available at the station. Please note that the Railroad reserves the right to alter schedules and substitute equipment as operating conditions demand.
While You're There
Nestled along the banks of the Delaware River, the village of New Hope and its surrounding area offer visitors scenic countryside landscapes, arts and culture, shopping, gourmet restaurants, romantic hideaways and family fun. Spend a few hours shopping, taking in the beautiful sites or people watching. Here are a few ideas:
Bowman's Hill Wildflower Preserve and Tower, located on River Road, stretches across 134 acres and features thousands of different plant species to thrill the nature lover.
Washington's Crossing Park is the historic site where George Washington and the Continental army and militia crossed the Delaware River in 1776. Guided tours and war reenactments are available Tuesday through Saturday.
Parry Mansion is an historical landmark built by New Hope founder Benjamin Parry. Tours are offered on Saturday and Sunday afternoons.
Delaware River Joint Toll Bridge – Weather permitting, you can walk or ride your bike across the bridge from New Hope to Lambertville where you'll be delighted to find even more shopping, dining, cultural sites and lodging options.
Coryell's Ferry will take you over to Peddlers Village or just enjoy a scenic view of the water at the dock.
New Hope & Ivyland Railroad Family Dinner Train
Sunday, April 27, 5 p.m.
32 West Bridge Street, New Hope, PA 18938