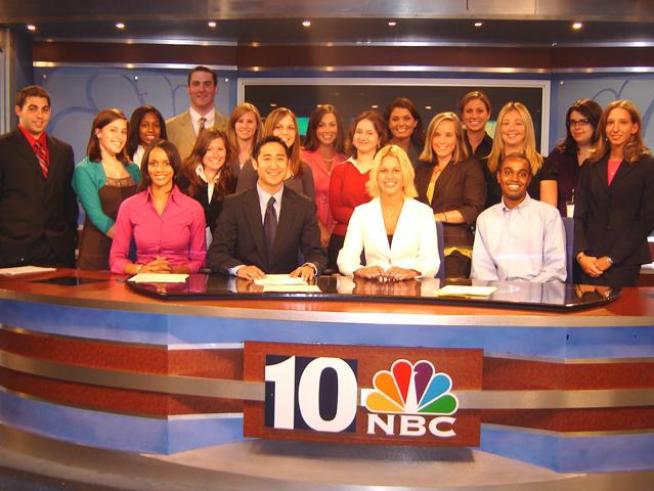 We are now accepting applications for Spring 2013 internships.
The program is designed to provide college students of Junior, Senior, and Graduate level class-standing the opportunity to explore careers in the broadcasting industry while providing meaningful and practical business experience which will generate college credit.
Program Information:

NBC10 Internships are offered during the fall, spring or summer semesters full or part-time (minimum two FULL days per week).

All internships are paid.

Housing/transportation assistance is not provided by the internship program

Each student is assigned to a station supervisore for the duration of the internship
At NBC10, labor contracts prevent interns from performing union duties. These duties include news writing, working with technical equipment and directing. While "hands on" experience is not available, you'll be able to observe and get to know a group of very talented broadcast professionals who have many years of experience and a willingness to share their knowledge. If you're interested in gaining "hands on" experience, we advise you to seek internships at stations with less restrictions.

NBC reserves the right to terminate a student's internship at any point for reasons such as misconduct, poor attendance, insubordination or other serious problems.

Upon the offer of an internship, the actual start date will be determined mutually by the supervising sponsor and the student.
Required Qualifications:

To be eligible for an NBC10 Internship, you must be in pursuit of an Associate, Bachelor or Graduate degree at an accredited institution.

Current class standing of sophomore or above

Cumulative grade point average of 3.0 or above

Must be 18 or older

Authorized to participate in an intership program in the United States
Preferred Requirements:
Previous work experience
Previous intership experience
How to Apply:
Submit your completed application and a copy of your resume to:
Kimberly Cummings
Human Resources Department
NBC10/WCAU Philadelphia
10 Monument Road
Bala Cynwyd, PA 19004
Eligible students must complete an NBC10 Internship Application. In order for you to qualify for an internship at NBC10, we will need a letter from your academic advisor -- on your institution's letterhead -- stating that you will receive academic credit for your internship. Failure to submit and return this verification will disqualify your application.
Unfortunately, due to the volume of applicants received each semester, internship interviews are not guaranteed to all who apply. In the event you are not chosen for an internship for the semester in which you have applied, but are interested in re-applying for another semester, you will be required to submit a new application in order to secure accurate and current course certification.
We are an Equal Opportunity Employer
M/F/V/H
NBC10 Internship Program will be enhanced in Spring of 2013. Stay tuned for more information.