October Snow Brings Power Outages, Deaths
Slippery conditions and a fallen tree contributed to the deaths of eight people in Pennsylvania.
Tuesday, Nov 1, 2011 | Updated 6:50 AM EDT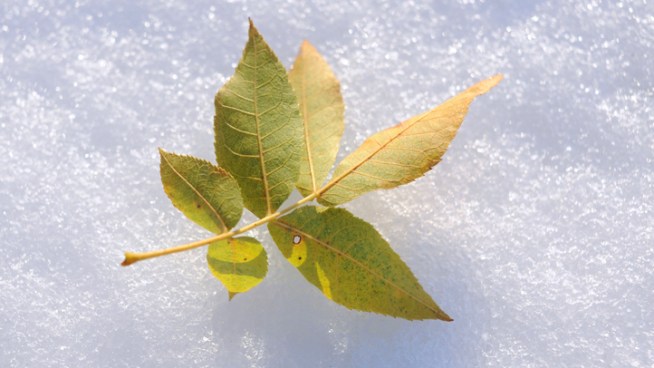 Getty Images
Leaves and snow rest on the ground after a winter storm October 30, 2011 in Hartsville, Pennsylvania. The storm came unseasonably early.
More than 100,000 Pennsylvania utility customers remain without power following a rare late-October snow storm that authorities say contributed to at least eight deaths in the state.
Some areas saw more than a foot of heavy, wet snow that brought down tree branches and power lines across a large part of Pennsylvania.
A slew of weekend crashes were attributed to slippery conditions, including collisions that killed six people.
A Berks County man was killed Saturday when a tree fell on his house. Another man is believed to have died of carbon monoxide poisoning after burning charcoal to keep warm at his home in Lehigh County, where some could be without power until the end of the week.
PPL Corp. reported about 60,000 without power and Met-Ed reported about 57,000 as of early Tuesday. A handful of school districts also closed.