Facebook Failed to Delete Posts Threatening Witness: D.A.
"These clear threats to a witness in Philadelphia have been up on Facebook since November, despite repeated requests from this office that they be removed," said District Attorney Seth Williams.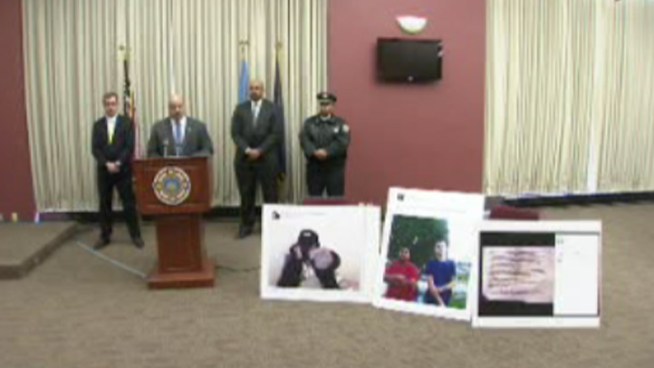 NBC10.com - Lu Ann Cahn
When Freddie Henriquez and David Ruiz, who are charged with threatening a woman, posted inappropriate information related to their case on their social media profiles, Facebook refused to remove the content, according to District Attorney Seth Williams. NBC10's Lu Ann Cahn reports.
Philadelphia District Attorney Seth Williams called out Mark Zuckerberg and Facebook on Monday, claiming the popular social media site failed to remove posts that threatened a witness.
In February of 2012, police say Christian Maldonado, 19, Jeffrey Maldonado, 23, Qumere Jenkins, 19, and Anthony Espinosa, 22, were all arrested and charged for allegedly partaking in a conspiracy to straw purchase numerous firearms in Philadelphia.
In November, 20-year-old Freddie Henriquez, who police say is an associate of the four men, allegedly threatened a witness in their case on Facebook. Investigators say Henriquez obtained a witness' statement, posted photos of it on Facebook and added the caption "RATS." Henriquez also allegedly wrote "KILL ALL RATS." Officials also say there were still images of Henriquez and his friend David Ruiz calling for all "rats" to be killed "point blank period."
Henriquez was arrested and charged with witness retaliation, witness intimidation and terroristic threats. However, he recently posted $25,000 in order to secure his release from jail. Investigators also say his threatening Facebook posts remained on his page until they were finally taken down Monday morning. The District Attorney's Office believes someone other than Facebook removed the postings after media outlets began to report the story and that there is no indication that Facebook security were the ones who took down the threatening messages.
"These clear threats to a witness in Philadelphia have been up on Facebook since November, despite repeated requests from this office that they be removed," said District Attorney Seth Williams. "Every day they were viewed by the public is a day this witness's safety was in jeopardy. I take no comfort in the fact that this defendant was able to raise $25,000, got out of jail, and removed some of the life threatening material on his own once his name was in the paper. This should have happened in November when this office first approached Facebook's security team."
A Facebook spokesman told the Associated Press the company works with law enforcement to ensure the safety of users "and any assertion to the contrary is false."