A massive winter storm that dumped more than 30 inches of snow on parts of our region raised flood waters in several Jersey Shore communities over the weekend, closing several roads and displacing many residents.
On Sunday morning, residents — many of whom already have homes partially underwater — braced for high tide to return between 7 a.m. and 8 a.m.
But Republican Gov. Chris Christie says the flooding wasn't as bad as it could have been.
The governor said minor to moderate flooding had occurred during Sunday morning's high tides, mostly in Atlantic and Cape May counties. Several roads and neighborhoods had been flooded, but officials said the waters were starting to recede by late Sunday morning. No major damage was reported from Sunday's flooding though some residents were displaced.
Flooding Continues at the Jersey Shore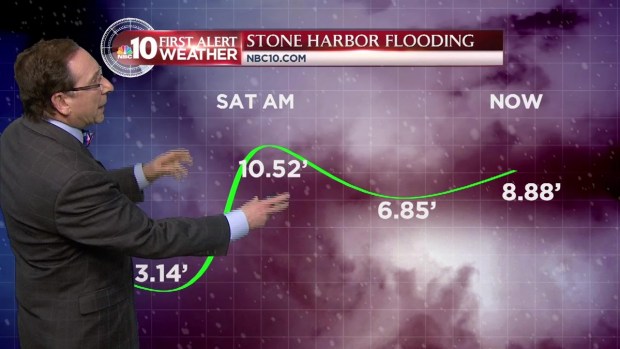 Flooding continues at the Jersey Shore due to the high tide. NBC10 First Alert Weather chief meteorologist Glenn "Hurricane" Schwartz has the details on the flooding as well as details on when the Blizzard will finally move out. (Published Saturday, Jan. 23, 2016)
NBC10's Ted Greenberg was in Cape May County Saturday night, where the streets were already flooded with water. While there was still flooding Saturday night in several Shore communities, it stopped short of the record levels that drove people out of their homes Saturday morning.
Sea Isle City Flooding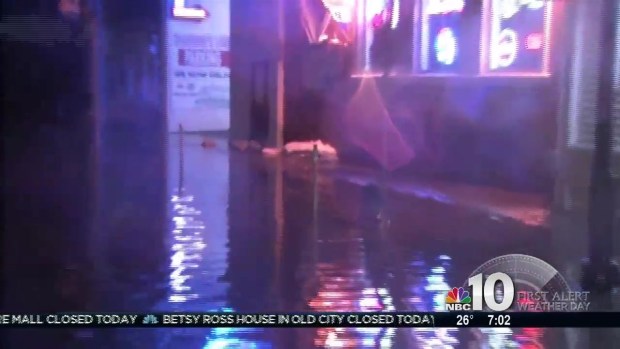 NBC10's Ted Greenberg is in Sea Isle City where Saturday's Blizzard and High Tide caused major flooding. (Published Saturday, Jan. 23, 2016)
"Cape May is the only south-facing beach in New Jersey," said NBC10 First Alert Weather chief meteorologist Glenn "Hurricane" Schwartz. "When the wind is out of the north, it blows offshore, therefore Cape May has a different kind of flood problem than the rest of the Jersey Shore."
High Tide in Cape May
The flood threat continues for Cape May, New Jersey due to another high tide. NBC10's Aundrea Cline-Thomas has the details. (Published Saturday, Jan. 23, 2016)
The massive winter storm caused historic coastal flooding and widespread power outages along numerous Jersey Shore towns Saturday.
Delaware Has More Than Snow Issues
Delaware was the first place the snow was landing, but that was the least of their worries. NBC10's Randy Gyllenhaal reports with how some parts of Delaware also had to deal with flooding. (Published Sunday, Jan. 24, 2016)
North Wildwood Mayor Patrick Rosenello told NBC10 that Saturday morning's flooding was half a foot higher than what his town experienced during Superstorm Sandy in 2012.
Rosenello said residents called emergency personnel after water began entering their homes. Some residents were evacuated from their homes and an emergency shelter was opened. Major Flooding in Wildwood
The mayor of North Wildwood, New Jersey told NBC10 his town saw flooding higher on Saturday than during Hurricane Sandy in 2012. (Published Saturday, Jan. 23, 2016)
North Wildwood Police rescued a young girl from a home on 17th Street and Delaware Avenue as flood waters rose through the house Saturday.
THANK YOU North Wildwood PD for rescuing this little girl from a house on 17th & Delaware Photo: Crystal Hutchinson pic.twitter.com/FqyWH2CKnj

— North Wildwood PD (@NorthWildwoodPD) January 24, 2016
Rosenello surveyed the damage in North Wildwood Saturday night while riding in the city's Office of Emergency Management vehicle.
"The water just kept coming up so I knew that I had to get out of there," said Antonio Velasquez of Wildwood, New Jersey.
Velasquez, who was forced to evacuate Saturday, also dealt with damage to his home several years ago during Superstorm Sandy.
"This is my second disaster," Velasquez said, in tears. "My second time that I'm going to lose everything."
Similar rescues like the ones in North Wildwood played out in flooded areas of other towns.
In addition to water in the streets, there was also debris and downed branches that made travel hazardous. Residents were urged to stay off roadways. Record High Tide Causes Historic Flooding
The blizzard and full moon created a record high tide that's flooding shore communities. NBC10 First Alert Meteorologist Glenn Hurricane Schwartz explains what to expect during the next two high tides. (Published Friday, Feb. 12, 2016)
Sea Isle City, Ocean City, and many other towns experienced major flooding on the streets.
At the Cape May Harbor, a new record high tide was registered. The old record, which happened during Hurricane Sandy in 2012, was 8.67 feet. The high tide registered at 9.26 feet Saturday morning. Lewes, Delaware, also set a new record high tide.
Cars left on the street and hotels in the shore towns were damaged by strong winds and there are numerous road closures all throughout Jersey Shore towns due to the flooding.
In addition, tens of thousands were without power along the New Jersey coast due to the heavy wind and snow.
During an interview with NBC10, New Jersey Gov. Chris Christie downplayed comparisons between Saturday's storm and Superstorm Sandy.
Christie Speaks on Jersey Shore Flooding
New Jersey Governor Chris Christie spoke with NBC10 about how the state is handling the flooding along the Jersey Shore. NBC10's Denise Nakano has the details. (Published Saturday, Jan. 23, 2016)
"We're not having any need in any of those towns in Cape May for evacuation," Christie said. "We're not having need for evacuations. The mayors did not call for evacuation in those towns. While flooding is moderate to major it is certainly not anywhere near the need for us to be evacuating anyone in those towns."
Christie said the Garden State had the manpower to respond to any mess. New Jersey Gov. Chris Christie Talks Flooding
NJ Gov. Chris Christie spoke early Saturday afternoon urging residents to stay in their homes if they have not taken on water, and reassured residents that New Jersey is capable of handling any problem thrown its way by the storm. (Published Saturday, Jan. 23, 2016)
Christie also said the Department of Environmental Protection is monitoring coastal flooding and shelters are available in every county. He also urged residents to stay home and wait out the storm if they could.

Published at 5:34 PM EST on Jan 24, 2016 | Updated at 6:05 AM EST on Feb 12, 2016