What to Know
Strong storms led to tornado warnings and flooding throughout the region on Thursday.
A First Alert was in effect until midnight.
Several viewers spotted possible funnel clouds in Bucks County and parts of Delaware as the storms passed through.
Severe storms brought several tornado warnings and flooding to parts of the region on Thursday.
Tornado warnings were in effect during the early evening for parts of Mercer, Monmouth, Ocean and Burlington counties in New Jersey as well as Bucks County in Pennsylvania and Kent County in Delaware. All of the warnings later expired.
Several people reported seeing possible funnel clouds as the storms passed through.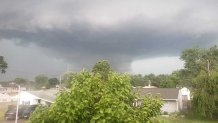 Rain was already falling late Thursday morning in some neighborhoods ahead of the stormier weather later in the day. Another round of heavy rain moved in Thursday afternoon and lasted through the evening.
Weather Stories
The rain began to move out late Thursday night.
The strong storms followed a heat wave that gripped the region throughout the week. The heat wave reached its peak on Wednesday with feels-like temperatures of 105 degrees and a high of 97. Philadelphia's heat health emergency expired late Wednesday night. Thursday's high was in the mid 80s.
Make sure you download the NBC10 app so that you can get the latest on the heat from the First Alert Weather Team anytime you want.