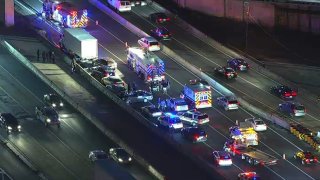 At least six cars and a truck were involved in a wreck and fire that caused delays on three of South Jersey's busiest roads during the Tuesday morning commute.
The wreck took place on Interstate 76 eastbound/ the 42 Freeway southbound approaching Interstate 295 in Bellmawr around 5:50 a.m.
Only one lane got by as traffic backed up on both I-76 and 42 approaching I-295. Traffic backed up in the other direction as people slowed to look at the crash. I-295 northbound and southbound also backed up approaching the crash scene.
Traffic backed up all the way to the Walt Whitman Bridge at one point.
By 8:30 a.m., all lanes were open.
No word yet on injuries.