A number of U.S. athletes sought redemption in Pyeongchang for the ninth day of competition in the 2018 Winter Olympics. But it was elusive for all of them.
Figure skater Nathan Chen wanted to overcome a disappointing start at the games, snowboarder Lindsey Jacobellis tried to show she's worthy of a gold, and two skeleton riders with ties to Pennsylvania and New Jersey looked to come from behind and medal in their sport.
Here's five events to keep your eye on over the next 24 hours:
Heavy Favorite Shiffrin Struggles in Slalom, Finishes 4th
Mikaela Shiffrin, the heavy favorite to win the women's slalom and claim her second gold medal in as many days, missed the podium and finished in fourth place in Pyeongchang on Friday.
Shiffrin's fourth-place finish is an astonishing upset, as the slalom is her specialty: Last year, she became the first woman to win three consecutive slalom world titles in 78 years and she won gold in Sochi.
Frida Hansdotter of Sweden took gold, Wendy Holdener of Switzerland took silver and Katharina Gallhuber of Austria won bronze.
Disappointing Day for Team USA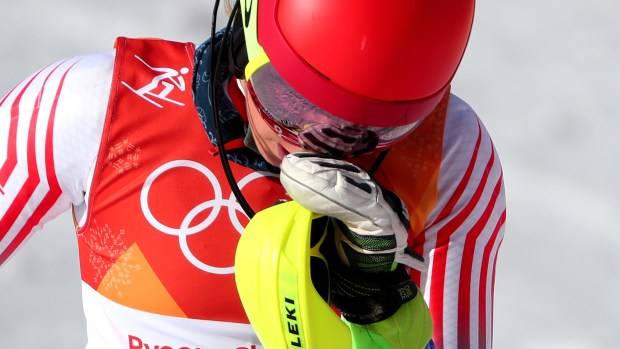 The 22-year-old American vomited before her first run, saying her nausea was "kind of sudden" and "almost felt like a virus." Although she used the break between runs to rest up (literally—she is known for her love of napping) second run wasn't enough to get on the podium.
The day before, Shiffrin took gold in the giant slalom.
You can re-watch Shiffrin's second run on digital platforms here.
Figure Skater Nathan Chen Hoped to Put Disappointing Start Behind Him and Adam Rippon Rocks the House
For a second program, Nathan Chen, a heavy favorite heading into the games, faltered during the men's shorts Friday night (Thursday ET). Chen tumbled to the ice during a jump. The poor showing landed him in 17th place. He will still advance, however.
Chen competed after fellow U.S. skater Adam Rippon rocked the ice with a sassy performance. The Clarks Summit, Pennsylvania, native danced to house music and showed off for the judges in a nearly flawless performance that landed him in seventh place heading into the free skate.
By the way, we spoke with Yelena Sergeeva, one of Rippon's first skating coaches, about how he trained in and around Philadelphia as a kid.
You can re-watch the skate program on digital platforms here.
Skeleton Riders With Local Connections Fail to Medal at the Sliding Center
Men's skeleton bounded down the ice chute in typical heart-pounding fashion on Wednesday night with South Korean Sung-Bin Yun dominating the course.
But two Olympians with local connections hoped to stand on the medal podium when the second half of the competition ended.

Matt Antoine, a graduate of California University of Pennsylvania, won a bronze in Sochi. Now, he pushed for a better standing in Pyeongchang. He ended in 11th place — the highest among Team USA.

Meanwhile, Vineland, New Jersey native Anthony Watson competed on behalf of his birth nation, Jamaica. The Philadelphia Eagles fan had a tough go in the half landing in 29th place out of 30. Unfortunately, he didn't advance.

Re-watch the final runs on digital platforms here.
Redemption Denied: Lindsey Jacobellis Fails to Medal in Snowboard Cross
Lindsey Jacobellis, the most decorated women's snowboard cross athlete ever, will finish her fourth Olympics just like the first three: without a gold medal.
Jacobellis, a five-time world champion, reached the finals of the event, then held onto a lead for the first two-thirds of the race. But she faded late, and finished in fourth place.
Italian Michela Moioli, France's Julia Pereira De Sousa Mabileau and the Czech Republic's Eva Samkova finished in the top three.
For Jacobellis, it's just the latest moment in a disappointing Olympic career. It began 12 years ago, in Torino, when she seemed to have the gold medal wrapped up, with a huge lead down the race's final stretch. But she tried a flashy move off a jump and fell, and settled for silver.
Since then, the Olympics have been her kryptonite. She crashed in early rounds in both 2008 and 2012, and failed to reach the final.
And now, one more disappointment: A solid run, but a finish just off the medal stand.
You can re-watch the race on digital platforms here.
Belarus' Huskova Wins Gold in Women's Aerials; USA's Madison Olsen Crash-Lands on Final Jump

A crash on the final run for American freestyle skier Madison Olsen kept her from medaling in the women's aerials event. Hanna Huskova of Belarus won her country's second straight gold medal in the event, with two Chinese skiers, Xin Zhang and Fanyu Kong, winning silver and bronze, respectively.
After the second of three final-round runs of women's aerials, only Madison Olsen from Team USA remained. Olsen's second-run score of 83.23 kept her in medal contention, but a crash on her final run kept her from making the podium.
Still, Olsen wasn't unhappy with her performance. The jump she crash-landed, a back full-double full, was one she'd never performed before in competition.
"It's definitely nerve-wracking," she told NBC. "We've been working on this trick all summer long. There wasn't a better time to do it."
You can re-watch the dramatic competition on digital platforms here.