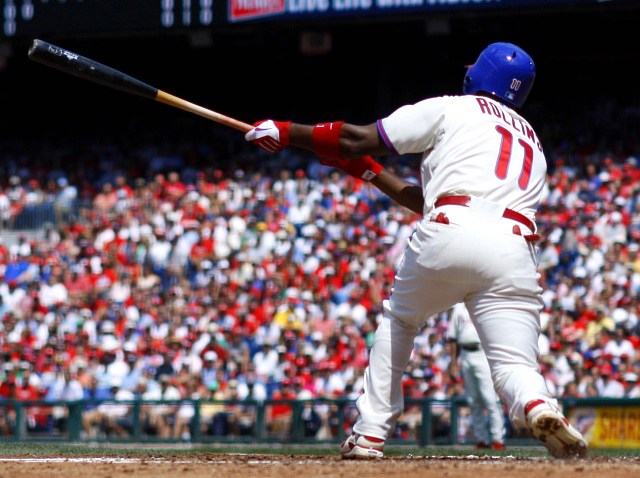 In a few months, the Philadelphia Phillies will be met with some harrowing personnel decisions, none of which are insignificant. Between Roy Oswalt's option, Cole Hamels' final year of arbitration, and the pending free agency of both Ryan Madson and Jimmy Rollins, it is apparent that Ruben Amaro will have his hands full.

While some of those are slam dunks (give Cole Hamels whatever he wants, decline Roy Oswalt's option), the other decisions are a bit tougher. Madson has proven himself to be as good a closer as he was a setup man, but Scott Boras is his agent, and high-priced relievers are almost never a good idea. Meanwhile, Jimmy Rollins will be a free agent for the first time in his career and will likely be seeking a not-so-team-friendly-deal like the one he signed back in 2006.
As a result, it is very possible that Rollins will be holding down the six-spot for someone else in 2012 as the Phillies try to get younger and less expensive with a short-term option -- even though Rollins continues to produce this year.

However, there is another reason for bringing Jimmy back into the fold, as John Smallwood talks about in today's Daily News.
Rollins has 1,809 career hits, and the odds say that within the next three seasons or so, he will get the 426 hits he needs to break Mike Schmidt's franchise record of 2,234.

The Phillies should allow Rollins to make a run at Schmidt's hits record.
As a bit of a baseball romantic, I love, love, love this. Records are meant to be broken and players were meant to spend their entire careers with one team. Given that Jimmy is as much a face of this franchise as anyone, it would certainly be a moment of considerable significance for Rollins, the Phillies and the fans.
That said, I'm also a realist. Even though I dig the fact that Ryan Howard will be spending perhaps his entire career in a Phillies uni, I can't say that I was a fan of the size of the contract that made that happen. It'd be a similar situation with Jimmy -- a veteran player, a Phillies lifer, and a contract that will almost certainly not be lauded by critics, based on the fact that it does not appear that Jimmy will be taking less money to stay in South Philly.

And while Smallwood does go on to say that the Phillies shouldn't give Rollins what the Yankees gave Derek Jeter this past off-season, he does imply that such an opportunity should be taken into consideration by the front office when they take their seats at the negotiation table.
Like most everyone, I'm a staunch believer that contracts are about future potential and not past accomplishments, and given the fact that Rollins is a shortshop on the wrong side of 30, I can't stay that I'd be all that jazzed over a contract that would lock him up. Even though he defends at an elite level, the Phillies have a pressing need to get younger and bringing back Rollins isn't necessarily the best way to do that.
It's about cost/benefit. Anything shy of a very team-friendly contract would likely do more harm than good. Would I like to see Rollins notch number 2,235 at Citizens Bank Park? You bet, but the Phils are in the business of winning baseball games, even if it means thumbing their noses at history.