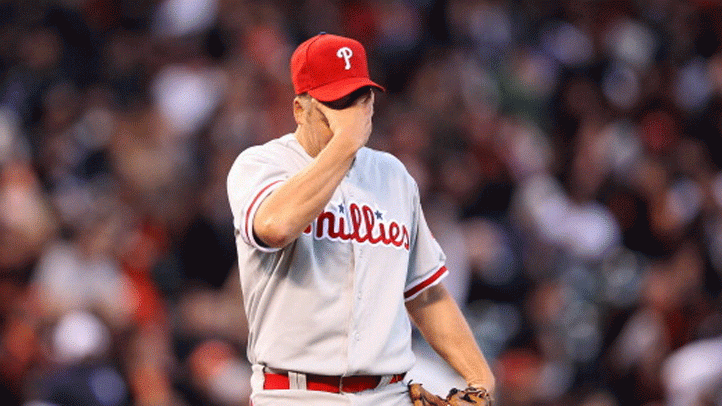 It goes without saying (but I'll say it anyway), but it's been a rough first half for the Philadelphia Phillies. The defending National League east champs, thought by many to head to the postseason for the sixth straight season, have defied all logic and reason and had their worst first half since the Bill Clinton era.

And barring some remarkable and historic second half, things are just about over for the 2012 Phillies. It's a shame, for sure, that we are burying this team in July after five great years, but it's better that we all come to terms with this, sooner rather than later.

So, what's next for the team? With the second half of the season ahead of them, what do they do, and what can the fans expect?

Well, the fans shouldn't expect much. They'll probably play better in the final three months of the season, now that they have an actual offense, and they might even finish the season above .500 – that should really be the goal, at this point – but there isn't much else to look forward to, at least in terms of the Phillies making a run towards the playoffs.

What we can look forward to, however, is seeing how the management handles their current position of having to be sellers – and not buyers – at the deadline. The last time the Phillies were in this position was in 2006, when they began to to sell off pieces of the team, including Bobby Abreu.

But unlike 2006, the Phillies don't have a burgeoning farm system and a bevy of young players to step up and lead in the team. In fact, it's quite the opposite. The minor leagues don't have much fruit to bear – in terms of Major League ready talent – so it will be an uphill climb as the team looks to rebuild for next season.

That said, they can still make hay this season by selling off chunks of the team in an effort to rebuild the farm, so that they could be ready to compete in the very near future. But who do they sell? Everyone. That's right, everyone.

At this point, no one on the roster should really be protected from a trade. Unless you're young and cheap (Vance Worley, Antonio Bastardo), you are expendable. That means Roy Halladay. That means Cliff Lee. That especially means Cole Hamels and Carlos Ruiz.

That's not to say that the Phillies should (or would) trade Halladay or Lee or Ruiz, but if a team makes them a good enough offer and is willing to take some salary of their hands, why wouldn't they consider it? Right now, the Phillies need to get younger, they need to get cheaper, and they need to build out their farm system so that they are less reliant on aging veterans signed to expensive contracts.

In all likelihood, you probably shouldn't expect too much to change before the trade deadline. Hamels might get traded, Shane Victorino probably will, as will Juan Pierre, and maybe even Joe Blanton and Placido Polanco. It really just depends on how well the Phillies do in these next few weeks. Should they win a few games, and look like they are turning it around, then they could stand fast and hope they get hot. But if they continue to play like they have been, then don't expect too many of the current guys to be around in August.