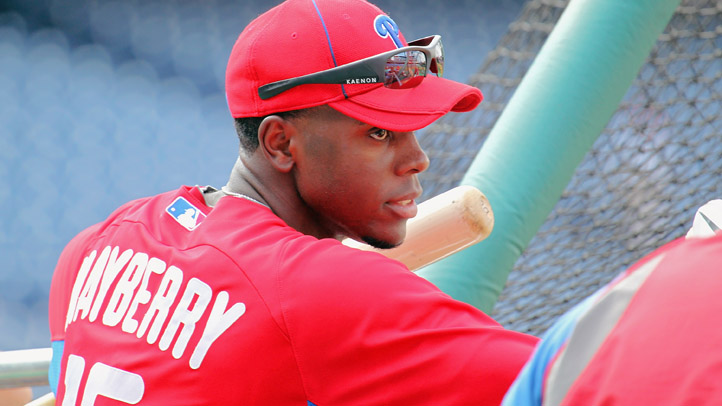 When shortstop Jimmy Rollins re-signed with the Phillies, general manager Ruben Amaro, Jr. and the rest of the front office could more or less push themselves back from the table, dust off their hands and call it an off-season.
If the season started Monday, the Phillies could take the field without missing too much of a beat. Their rotation is more or less set, with the triumvirate of aces -- Roy Halladay, Cliff Lee and Cole Hamels -- poised to lead the way ahead of the back end of the rotation that will likely consist of Vance Worley and Joe Blanton, while closer Jonathan Papelbon anchors the bullpen that will not be too dissimilar from 2011.
Offensively, things are a bit less secure. Rollins' three-year deal stabilizes things up the middle, with he and Chase Utley at shortstop and second, respectively, while Carlos Ruiz is back behind the plate. In the outfield, Shane Victorino will continue to patrol center while Hunter Pence, fresh off some off-season hernia surgery, will be the Opening Day starter in right field for his first full season as a Phillie.
Six positions and six players. After that, it gets murky. Even though we can likely count on Charlie Manuel filling in Placido Polanco's name on the lineup card at third base, his injury history plus the team's willingness to talk about moving him at the Winter Meetings have made his future in Philly a bit of a question mark. Not a huge question mark, but a question mark nonetheless. Of course, he is helped out by the fact that he still plays Gold Glove-worthy defense in spite of his bat declining as his injuries mount.
So, in reality, that leaves the Phillies with two big question marks: First base and left field.
With slugger Ryan Howard slated to possibly miss much of the first half of the season, the Phillies don't have a definite answer for his absence at first base. Even though legendary slugger Jim Thome was signed to a one-year deal, he isn't going be able to play first base on an everyday basis, and will likely be a spot starter against right-handed pitchers, at best. That leaves the likely combination of John Mayberry, Jr. and Ty Wigginton to make up for the injured Howard.
Despite the fact that Mayberry is an outfielder by trade, he did get a handful of looks at first base last season, and has shown to be, at least, capable. Wigginton, on the other hand, has logged many more innings at first, so the safe money is on the veteran to get most of the looks at the corner infield spot, if for no other reason than Mayberry will be too busy playing...
...Left Field, along with new Phillie Laynce Nix. Mayberry had himself a career year in 2011, where he swatted 15 homers to go along with a line of .273/.341/.513. He handled lefties a bit better than righties, so the obvious angle would be to see him platooned with Nix, who hit 16 homers in 2011 -- all off of right-handed pitchers.
But, is a platoon of Mayberry and Nix enough to get it done in left? Nix is only useful against right-handed pitchers, so he is certainly going to get a ton of starts, but is that enough to overlook Mayberry's breakout 2011 season? And above all, are any one of these guys better than any potential free agents (like Carlos Beltran) or better yet, someone like Domonic Brown, who has been overlooked over the last two seasons despite his rise as the team's best offensive prospect? Despite his struggles learning a new position in Triple-A last season, Brown might be the best in-house option to take over the reigns in left, but the team's reluctence to commit to him at this time leaves the tandem of Mayberry-and-Nix as the obvious choice to man the one vacant outfield position.
There is a ways to go until pitchers and catchers report, so anything that has been done at this time can effectively been undone, but with the exception of a relief pitcher here or there, I'd say the team you're looking at right now is going to be the team you'll be looking at when Opening Day comes 'round.