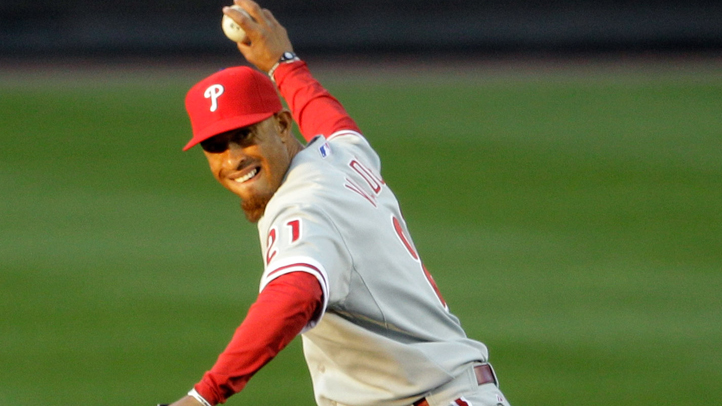 I'm almost positive that not a lot of fans, even the Phaithful, saw all of Wednesday night/ Thursday morning's 19-inning, 6-plus hour marathon. There are a lot of things I could've done in that 6-plus hours: Drive to Miami for dinner; take in a service at a southern Baptist church; or watch Braveheart -- once.
If you polled 100 players I believe that 100 players would tell you that they don't like extra innings. One or two innings is cool, but after that it turns into overtime, but there is no extra payout. Not to mention, extra innings can wreak havoc on a pitching staff.
At some point Wednesday night Charlie Manuel had to make a crucial decision. He knew that he had no one left in the bullpen so had to choose a player that; can possibly get outs without giving up too many runs; the Phils can afford to get hurt; and Charlie thinks won't hurt himself.
It's complicated I know, but I'm sure that was the thought process. I've seen it way too many times.
The positive side of this whole situation is that some position player would get to realize another lifelong dream of pitching in the big leagues. He would finally have the opportunity to back up all the trash he's been talking about pitchers and how easy their job is. Either that or he'll straddle the mound and realize how much more difficult it is to pitch than it is to throw. Most players experience the latter.
Early Thursday morning Wilson Valdez toed the bump and looked pretty good. He seemed focused and intent on getting those outs. I could see the competitive juices flowing through his visage. I have the feeling that had he given up a run he would have been sincerely disappointed even though he probably hasn't pitched since little league. He featured a sinking fastball and he threw strikes, not to mention he nearly touched 90 mph.
He plunked ex-Phil Scott Rolen. Now I've seen Rolen literally maim opposing second basemen and short stops after being drilled by a pitch. That was his payback. He let Wilson slide this time. I think it was because it was a slider, or a spinner, because it didn't slide.
I can remember my favorite big league highlight like it was yesterday. I made my major league pitching debut for the Mets in Shea Stadium in 2001 against the Padres and I pretty much shoved it to them. I had a 1-2-3 inning, added in a strikeout and topped out at 93 mph on the gun.
A few weeks later I got the call to the bullpen to warm up against my former team, the Phillies. My outing was foiled by Turk Wendell, who escaped the snafu by inducing an inning-ending double play. I was praying that he blew it -- is that wrong??
I'm sure that Wilson has lobbied to pitch before and in the 19th inning he finally got to show and prove that he can actually pitch. He pitched well. In fact, well enough to garner a big league W. Now let's just see if he'll be able to not let it get to his head.
Way to go Wilson!