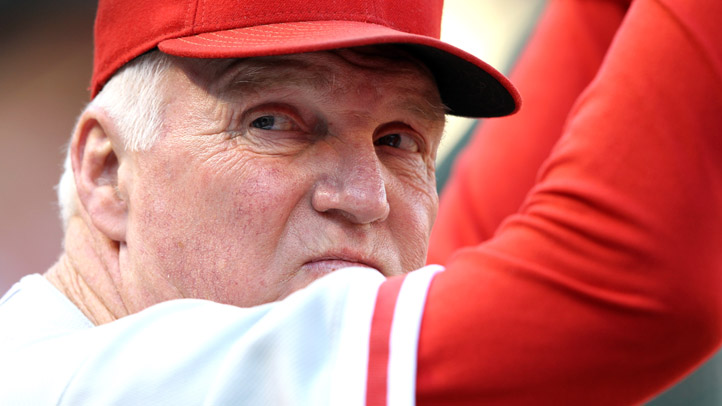 If you've read more than two of my blogs here at Philthy Stuff, then odds are you've seen me prattle on and on about the awesomeness that is on-base percentage and a hitter's ability to work an opposing pitcher thanks to a preternatural ability to judge the strike zone.

And as the lineup has aged, it seems they've slowly lost that ability to put together good at-bats, and instead appear to be swinging early and waiting for the long ball to deliver them from evil.

But this season, it appears that Charlie Manuel is hoping to get them to reverse that trend, and wants them to treat every at-bat with utmost importance.

Via Ryan Lawrence of the Delco Times:
"I've talked to almost all of our core players; we want to cut down on the number of at-bats we give away," Manuel said. "We give away a lot of at-bats. We want to turn some of those at-bats we've given away into quality at-bats, what I call team at-bats."

That's sort of academic, because not giving away at-bats should be every hitter's goal, every year. It's like preaching to the starting pitchers to go out there and not give up hits. All the same, it's refreshing to hear Charlie come out and say that. And if I may interpret his words, I like to think that he is saying "Hey guys, don't be afraid to take a walk every now and again."

Regardless, the whole "don't waste at-bats" approach is way over due, because over the last few seasons (with some exceptions), the lineup has been of the swing first, ask questions later variety, something that proved to be their Achilles heel in the postseason. While the St. Louis Cardinals worked the counts and made it hard on the Aces*, the Phillies seemed to do the exact opposite. First-pitch swinging, a lack of patience, and a complete inability to run up a pitch count. And it's that lack of tenacity, I think, that lost them the series.

*This is something that cannot be overstated. It's anecdotal, but probably also empirical, but the Cardinals were brilliantly frustrating in the batter's box in the postseason. No matter who was on the mound – Halladay, Hamels, Lee, Madson, whoever – they were not going down easy. They had crazy-good at bats against great pitchers, and it looked easy, like it was second nature. Even when they didn't reach base, it was like they were making the pitchers work. "Two strikes? No problem, I'll just foul off four of five pitches here before harmlessly popping out."

Aside from Chase Utley (who had a career low on-base percentage in 2011), Shane Victorino and Carlos Ruiz, the Phillies aren't rife with guys who typically take pitchers and work the count, so we can only hope that Charlie's new offensive outlook rubs off on the hitters.