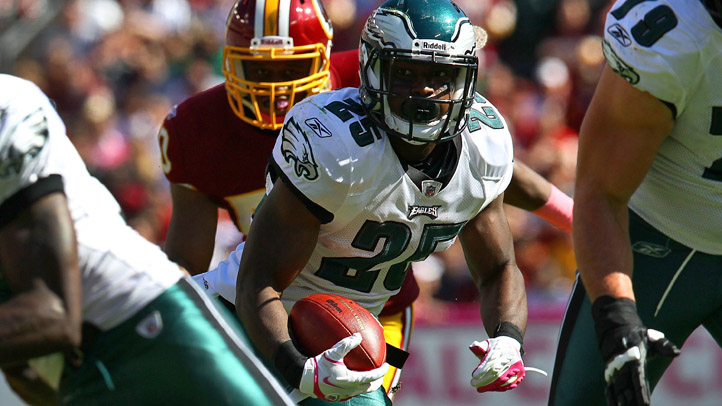 Welcome to The Takeaway, where we take away the three key points from the Eagles previous game, in this case the team's 20-13 win over the Redskins.

1. Someone owes Bill Leavy a box of chocolates. If the Eagles go on to save their season after this win, they ought to send referee Bill Leavy a small gift (Rex Grossman gets the gold watch) for his assistance in helping to right the ship. It was a scoreless game early when Jason Kelce snapped the ball over Mike Vick's head and sent Vick scrambling into the end zone to retrieve it. Vick then threw the ball away. and right there was when Leavy and his crew could have put the Eagles into a hole they might not have gotten out of. Because that was intentional grounding in the end zone, and that's what we all thought the flag was down for. But no! No, instead of a grounding call and an automatic safety and turnover, Leavy's crew called Rocky McIntosh for a ticky tack -
roughing the passer penalty, and the Eagles cruised from there. Watch the replay again. It's not exactly a lock that Rocky's helmet clashed with Vick's. Certainly, there have been times when refs have let that slide, particularly against Vick. But it seems that Vick's constant call for protection from the refs finally paid off! Huzzah! Grossman may have handed the Eagles an easy victory yesterday, but that call helped set everything up. It just shows you how often a team is at the mercy of calls that can go either way.

2. See what happens when you run the ball? The 28 carries LeSean McCoy had yesterday represent the most carries he's had in his entire freakin' career. In fact, McCoy has only gotten 20+ carries five times in his three years as a pro. Four of those times, the Eagles have prevailed. IS ANY OF THIS REGISTERING WITH YOU, ANDY REID? No wonder McCoy threw an uppercut at Reid's gut yesterday. When you run the ball a lot, and you run it well, you give the o-line help protecting Mike Vick and you help Vick cut down on turnovers. See how that works, Andy? I'm very excited for the Eagles to come back after the bye and run McCoy eight times against Dallas. You know it's coming.

3. Oh, so THAT'S what Vince Young is like. Yup. Pretty painful. And the worst part is -- that isn't the last you'll see of him this year. I don't think it will ever dawn on Vick that, in order to have a successful career as an NFL quarterback, you can't leave every game you play with an injury. That tends to hurt your longevity.