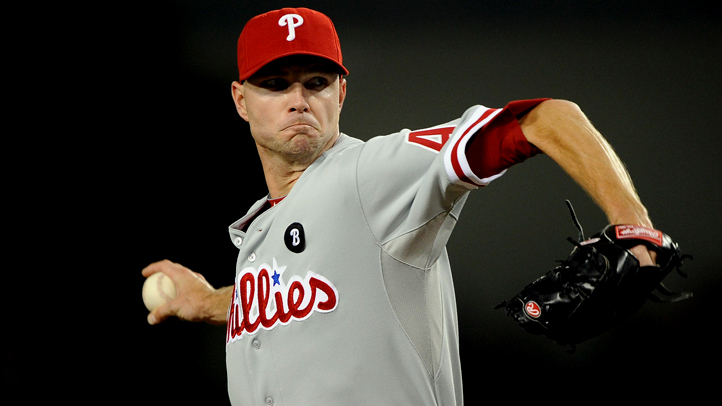 No one was ready for the Phillies offseason to be upon us just yet.
But that's where find ourselves after Chris Carpenter's gem on Friday night and yet another offensive brownout by a lineup that had far too many of them. That means it is time to start looking forward to next year and figuring out what the Phillies need to do to avoid another crushing disappointment at this time in 2012.
The best place to start is with the guys currently on the roster whose contract situations don't guarantee them a place at the table next year. The Phillies have five key players in that position.
Raul Ibanez - Ibanez is a free agent and it seems pretty clear that the Phillies have reached the end of the road with him. John Mayberry was a more productive player in 2011 and, at 39, there's not much chance that is going to change in 2012. With Domonic Brown in the mix as well, Ibanez is going to have to play elsewhere if his career continues.
Brad Lidge - The Phillies have a $12.5 million option on Lidge for next season or they can pay him a $1.5 million buyout. The decision seems pretty clear. The option is too much money to pay for a pitcher that won't be a closer and Lidge's days as a stopper in Philly are done. Maybe he returns on a smaller salary, but that's a longshot given how much else the Phillies will need to do between now and April.
Roy Oswalt - Another option situation here as Oswalt is owed either $16 million or a $2 million buyout. He can opt out of the option and take $1 million, but that's a pretty poor bet. So is Oswalt's return. Vance Worley is ready to step into the fourth slot and the Phillies can make better use of the money in other spots, especially with Joe Blanton still on the rolls for $8.5 million.
Jimmy Rollins - There's been a lot of bluster already about Rollins' impending free agency, but we'd expect to see the two sides to find a way to stay together. Rollins' offense bounced back this year, his defense remains strong and there are enough other needs that the Phillies don't need to create one at shortstop. It might play out in a manner reminiscent of the way the Yankees and Derek Jeter dealt with one another last offseason, but it should get done in a way that ensures Rollins never plays for another team.
Ryan Madson - This will be the toughest decision of them all. Prices for closers can get out of hand -- see Lidge's $12.5 million option -- and Madson is coming off a year that caught the eye of any team that might be in the market for one. The Phillies will need a reliable arm at the back of the pen, but they need to balance that need against the knowledge that one year's flavor of the month can go sour a short time later and the fact that replacing them could cost them prospects or draft picks as well as a fair amount of money. That's a tricky equation, but it is hard to believe that it winds up with a better answer than Madson.
Copyright FREEL - NBC Local Media