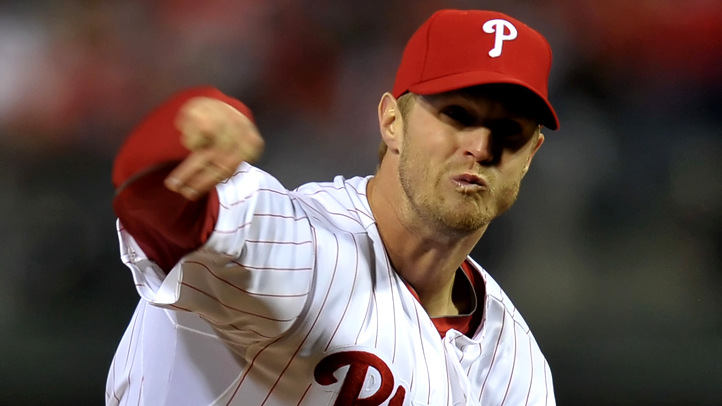 Way back in 2010, when I was writing for TheFightins.com – the preeminent Phillies blog for inappropriate stuff and occasional insight which has very recently returned from the dead -- I was pretty adamant about giving the fifth spot in the rotation to one Kyle Kendrick after he turned in a spring training that actually managed to convince some of us that his new-found mentor, Roy Halladay, had somehow rubbed off and turned Kendrick into a quality pitcher.
But after a few weeks worth of starts, we were smacked squarely in the face with a hard dose of reality that is "Hey, wise up. Kendrick is who he is: A guy with no out pitch who relies squarely on the other team hitting the ball to be effective."
That was as evident as ever on Monday night, when Kendrick came on in the top of the 12th inning against the Milwaukee Brewers for the purpose of offering long relief to a Phillies bullpen that already saw five relievers combine for four innings of work.
As I wrote earlier, it didn't go well. He couldn't locate his pitches, he couldn't get guys out, and he couldn't make an easy defensive play that could have changed the entire outcome of the game, and in doing so, cost the Phillies a win.
But there is a benefit of a guy like Kendrick on the team because he can give you multiple innings, even if they are reserved for garbage time. Inherently, there is a bit of value there, though not much. Rather than burn up guys in the 'pen that can provide 1-2-3 innings on a nightly basis with aplomb, the Phils can turn to Kendrick, who should really never be put into a scenario that is anywhere in the neighborhood of "high leverage."
However, sometimes last night happens, and Charlie Manuel is forced to ride it out and hope for the best.
Still, after his most recent performance where he looked as bad as ever, it brings into question the very reason for his presence in the bullpen (that is already shorthanded) or even on the team. With a AAA team that has more than enough replacement-level arms that can most assuredly provide more value than Kendrick, it would seem like an ideal time to give someone like Vance Worley or Scott Mathieson a shot. Not only would that mean less Kendrick, but it would mean that there would be one more guy in the bullpen that could conceivably be shoehorned into a tight spot.
For what it's worth, I like Kendrick. He filled in admirably for an injury-riddled rotation in 2007 and rode that success to a full time job in 2008 and 2010 despite never being the best man for the job. Maybe I (and everyone else) are getting too worked up over the poor outing by the guy listed last on the pitching depth chart behind the bullpen coach and the pistachio girl, but maybe it's time to give someone else a look.