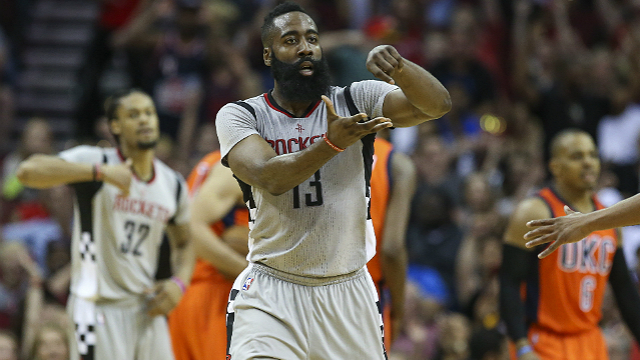 HOUSTON -- James Harden has signed a four-year, $118 million contract extension with the Houston Rockets.
He was scheduled to become an unrestricted free agent after the 2017-18 season.
The move Saturday comes after a frustrating season for the Rockets, who were ousted by Golden State in the first round of the playoffs. They fired Kevin McHale after a 4-7 start, and interim coach J.B. Bickerstaff went 37-34 the rest of the way.
Philadelphia 76ers
Complete coverage of the Philadelphia 76ers and their rivals in the NBA from NBC Sports Philadelphia.
A year ago, Houston reached the Western Conference Finals and Harden finished second in MVP voting.
Heat: Wade reflects on leaving Miami
MIAMI -- Dwyane Wade still isn't totally ready to leave Miami.
He felt he had no choice.
The soon-to-be Chicago Bulls guard offered his side Saturday of the process that led to the end of his 13 years with the Miami Heat and deciding to play for his hometown team. Wade insisted he has "the utmost respect and admiration" for Heat President Pat Riley -- who drafted him in 2003, coached him to his first title in 2006 and now played a role that led to him leaving a franchise that's clearly in transition.
And despite his anger about the breakup, he made clear that he will never bash the Heat or Riley.
"I love Pat Riley," Wade said. "He's been someone who's been a figurehead in my life since I got drafted here at 21. But at the same time, he has a job to do. He has a different hat to wear. That hat sometimes is not to be my best friend. That hat is to be the president of an organization and to be a businessman. And it sucks. You know somebody so well, you guys love each other, but the business side comes out.
"I'm not saying that we've hugged and cried and shed tears at this moment. But I love Pat. And I will always love Pat. And, you know, I know he feels the same way about me."
Since Wade announced Wednesday that he'll sign with the Bulls, he's felt countless emotions. He went past the arena the Heat call home Friday, blown away by the tribute the team was paying to him on external video screens. He couldn't believe how many people were lined up to buy merchandise with his name and number on the back. He choked up when he saw the full-page ad the Heat took out for him in South Florida newspapers. (see full story)
Knicks: Team signs Lithuanian forward Mindaugas Kuzminskas
NEW YORK -- The New York Knicks signed Lithuanian forward Mindaugas Kuzminskas on Saturday.
A 6-foot-9, 215-pound player, Kuzminskas has averaged 8.3 points and 2.9 rebounds in 221 career games over seven seasons with Siauliai (Lithuania), Zalgris (Lithuania) and Malaga (Spain). He is a four-time Lithuanian all-star (2010, 2011, 2012, 2013) and three-time Lithuanian national champion (2011, 2012, 2013).
Kuzminskas, 26, scored 12 points on 48.6-percent shooting, and pulled in 3.4 rebounds in 23 games for Malaga last season.
Copyright CSNPhily