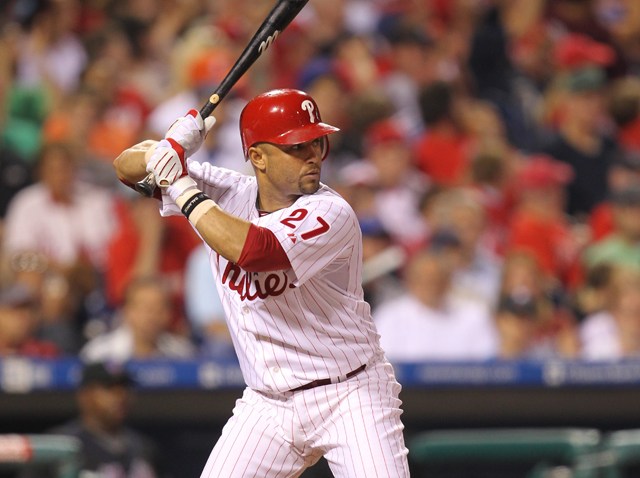 With the first half of the season nearly in the books, we can turn our attention away from the standings (at least for now) and toward something that is entirely more pressing: The All Star Game.
The Midsummer Classic, which brings together the best and brightest that MLB has to offer, has been a scourge of bloggers and fans for some time now, with every third blog post or so having something to do with who was snubbed, who was the benefactor of the popularity contest that is the voting method, and whether or not an exhibition game should actually count for anything. (Hint: It should not.)
Those are all topics that are ripe with creative possibility, but I'd like to focus on how the All Star Game relates to one of Philly's finest: Placido Polanco. The third baseman, currently on his second tour with the Phils, was the leading vote getter among third basemen this season, and will be representing the National League at the hot corner next week in Arizona.
Only he shouldn't be.
Let me explain: I like Polanco. He's an underrated player, as far as I'm concerned, and I'm thrilled that he is getting his second All Star nod while wearing the red pinstripes. It's got nothing to do with the fact that there are probably a couple of guys more deserving, but everything to do with the fact that Polanco should be more concerned with staying healthy than with playing in a meaningless game.
Polanco said he has considered getting a cortisone injection to help his back pain. (Polanco said Sunday in Toronto he has a pinched nerve, which sometimes causes numbness in his leg.) But he said after receiving several cortisone injections last season for an injured elbow, he wants to stay away from shots.
Under normal circumstances, I'd be cool with Polanco playing a few innings in the All Star Game, despite his struggles since hitting at a near-.400 clip to start the season. However, in light of the fact that he is nursing a back injury, one that is undoubtedly affecting his play (He's hitting .219 since the beginning of May), I'd say that a few days off in the middle of the season will do him wonders.
It is an awfully long season, and breaks come along only so often, so perhaps Polanco would be better off taking a few precious days off and worrying about getting himself healthy for the second half of the season. With all the bumps and bruises and strains that occur naturally between April and September, there is no reason not to take a few well earned days off to get healthy. At this point, it should be all about October.