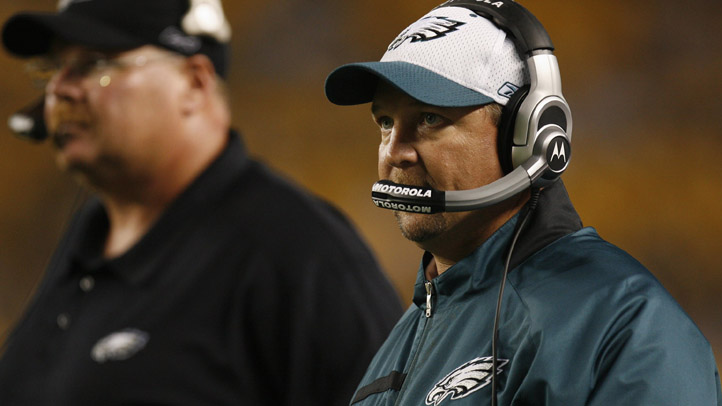 It sure seems like more than two weeks ago that the Eagles were 3-1. Now 3-3 and on their bye, changes are afoot. First, coach Andy Reid fired defensive coordinator Juan Castillo and replaced him with Todd Bowles. Then came reports Thursday night that after evaluating everyone -- coaches and players (including himself) -- Reid was sticking with offensive coordinator Marty Mornhinweg and quarterback Michael Vick … at least through the Week 8 Falcons game.

So what does that mean for an Eagles offense with more turnovers (17) than touchdowns (10)? For now, not much. The team is off this week, which means we'll have another five days of Reid reassuring the media that things will change, with Mornhinweg and Vick confirming it.

The real question is can Vick change? And let's be clear, this isn't all on him. Yes, he's made some horrible decisions -- both with his arm and his legs -- but the play-calling didn't do him any favors. Vick threw the ball 56 times in the season-opener against the Browns, and 46 times in last Sunday's loss to the Lions. Then, in the Week 5 matchup with the Steelers, there was the head-scratching decision to run a quarterback sneak from the Pittsburgh 1-yard line … and Vick lost a fumble into the end zone.

It's not a new complaint but one worth bringing up given all the recent upheaval: why not use LeSean McCoy more (he wasn't even on the field when Vick fumbled against the Steelers)? In the team's three losses, McCoy ran the ball 13, 14 and 16 times. In the convincing offensive performance against the Giants, McCoy averaged 5.3 yards per carry (23 rushes, 123 yards). Yes, it's lazy to just say "run the ball more and you're win" because there's cause and effect at work. But there has to be a happy medium between "Let's see if Vick's arm will fall off" and "15 touches should be enough for Shady."

But it might not be long before the Vick era meets its untimely demise. The Eagles signed him to six-year, $100 million contract before the 2011 season and there's a decent chance he doesn't finish the season as the starter. Reid is partial to veteran quarterbacks, which is probably why Vick has lasted this long, but rookie third-round Nick Foles was the best QB on the roster in preseason. Yes, there's a huge difference between lighting up third- and fourth-teamers in basic schemes and going up against the Steelers or Giants.

Reid and Mornhinweg know this. And Vick does too. But that's only have the battle. Given that team president Jeffrey Lurie announced in August that mediocrity is unacceptable, there has to be some urgency to what the Eagles are trying to accomplish. That started with Castillo, who many people feel was scapegoat-ed out town. The defense gave up back-to-back fourth quarter leads but to our knowledge Castillo had nothing to do with Vick's 13 turnovers or the decision to not use McCoy.

At the end of the day, however, Reid will be held accountable. Which is why, in all likelihood, Mornhinweg and Vick have one last shot to sort things out. Unfortunately, that'll come against the 6-0 Falcons.