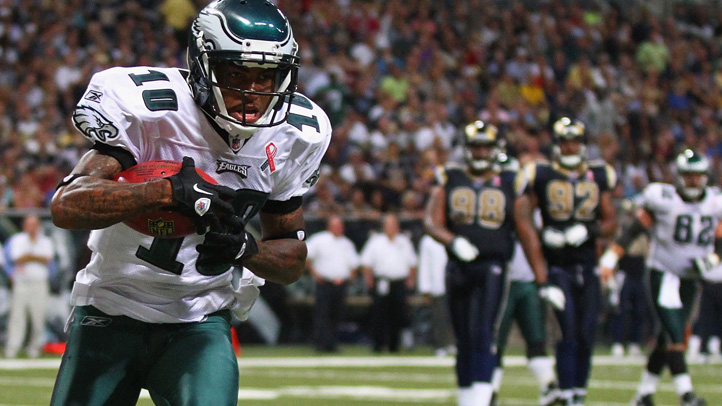 Another week, another round of contract non-news involving Eagles wideout DeSean Jackson. First we had TO telling DeSean he should have held out. Then we had Skip Bayless bulltweeting that the Eagles were mildly concerned about giving him a fat contract (what a scoop!). And now we have a report from Philly Sports Daily that the Eagles have made no offer to Jackson as of yet:
The Eagles have yet to make an offer, according to a league source.
Then team President Joe Banner took to the airwaves to make the situation even more vague:
Mathematically we are in a position where we could sign someone to an extension. At the same time, obviously, there are numbers that get so large that you can't do that. But that is not what would keep us from doing something with somebody at this point. ... Within realistic parameters, we could do something if that is what we wanted to do.
Yes well, that clears up everything now, doesn't it? I'm glad you could do something with somebody if you wanted to do something with somebody. Meanwhile, Jackson performed up to his usual standards in lighting up the Rams on Sunday and has assumed full-time punt returning duties for the team, duties that got another star wideout (Cowboys WR Dez Bryant) hurt on Sunday night.
It's hard to reconcile people complaining about DeSean's attitude when he has been quiet, professional, and effective since returning to the Eagles this summer. Maybe it's all an act, so that DeSean can get his new contract and then fall off the face of the Earth, as Albert Haynesworth did in Washington. But that doesn't seem like it will happen with Jackson, a player who came back quickly from a deadly hit last season, and a player who seems downright ecstatic any time he does something good on the football field, which is often.
Jackson hasn't made his contract situation a distraction at this point. In fact, it's the Eagles making it an issue by dragging their feet and talking in vague details about what they may or may not do. They already took a big risk in signing Michael Vick. They should take one more and nail down one of the most talented wideouts to ever wear an Eagles uniform.
Remember Todd Pinkston?
Remember James Thrash?
Pay DeSean and let's get on with it.