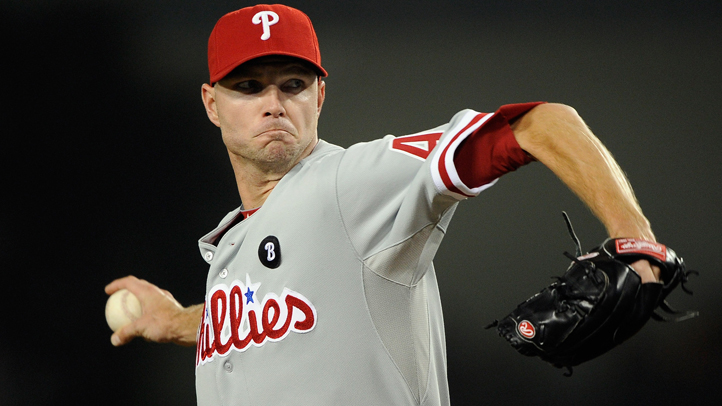 When Ryan Madson took the mound in the ninth inning of Game Five of the National League Division Series, I remember watching that moment with my friend Paul (a great writer over at Crashburn Alley) and talking about how this might be the last time that the tall righty ever threw a pitch in red pinstripes, and that he would be exceedingly wealthy in the very near future.
It wasn't a crazy notion, because he was hitting the open market for the first time in his career, and he had more than proven his worth as a closing pitcher, and if there is one thing that I am certain of, it's that General Managers LOVE to pay a lot of money for saves.
Flash forward two months, and Ryan Madson is still out of the job. No, not in the "I am the 99%" way, but in the "no one needs a closing pitcher" way, which is kind of silly, because when the free agent bidding period started, no less than a half-dozen teams needed a closing pitcher, including the Philadelphia Phillies, which figured to make them the best fit for the 31-year-old.
Early on, it appeared that a reunion of the two parties was in order. But after initial reports that the Phillies and Madson were on the verge of inking a new deal proved to be erroneous, the Phillies went out and signed Jonathan Papelbon* to a four-year deal, which effectively ended Madson's tenure in Philly.
*At the time, everyone hated the Papelbon deal. It was way too much money for a relief pitcher and, in true Ruben Amaro style, it happened before the market could settle, which almost always results in overpaying. And because Madson is still on the market, he would undoubtedly take less money (and maybe years) to sign him, which makes the Papelbon deal look even worse. Haste makes waste and overpaid relief pitchers.
With the Phillies off the board, it reduced Madson's market, but only slightly. Papelbon's former club, the Boston Red Sox, were in need of a closer, and Madson was as good a fit as anyone. But when they traded for Andrew Bailey of the Oakland A's, the big money market for Madson all but vanished. While there are other teams that could use Madson's services (Brotherly Glove with the assist), it looks like the big deal that he and Super Agent to the Stars Scott Boras were looking for has gone the way of the three-inning save.
It's a shame that things went down that way, because for all intents and purposes, Ryan Madson is a really, really good relief pitcher, and is probably better than, say, 80 percent of current closing pitchers. Given the history of teams giving a lot of money to closers, it is very surprising that he appears to be without a home. That's not to say that he won't land somewhere. He'll get a deal with some team (maybe across the Pacific), but for much less money than he was looking for in an off-season when teams are handing out multi-year, big dollar contracts like free lollipops.
If nothing else, this episode makes for a good case study of the perils of misreading the market for relief pitchers. And that's something that we can all appreciate. Except for free agent relief pitchers, of course.