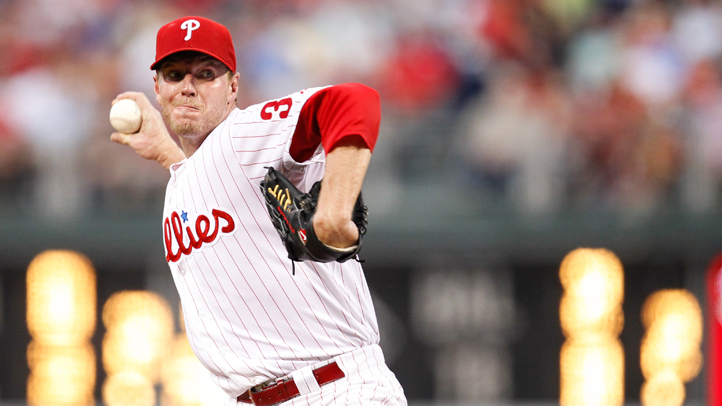 In the first two years of Roy Halladay's tenure in red pinstripes, he was everything the team needed him to be, and more: A bona fide ace and innings-eater that dominated all-comers to the tune of a 2.40 ERA with 439 strikeouts in 484 innings pitched over 65 games. Add to that a perfect game, a no-hitter in his first every playoff game, and a Cy Young Award, and you have a beautiful tapestry of pitching dominance.
He was the leader of the 2011 rotation that would be referred to as "The Phour Aces," a workhorse, and, arguably, one of the only guys that you wanted on the mound in a big game. In short, he did it all.
Then came last season.
The veteran right-hander, turned 35 and hit a career speed bump that could have been seen from space, thanks to a decline in velocity plus a loss of control, both of which can be the result of an injury, an aging body, or both. In 25 starts last season, Halladay had a 4.49 ERA (the highest mark of his career in seasons where he's thrown at least 100 innings), and saw a spike in his BB/9 (2.1).
It was evident from spring training that something was different about Doc, and after he was rocked during a start in late May, it appeared that we arrived at the answer: A right shoulder injury.
But when it appeared that Halladay wasn't any better after more than a month off, the question went from "Was the injury that bad?" to "Does it even make a difference at this point?"
Sad as it is to admit, but Halladay isn't the same pitcher that came to Philadelphia before the 2010 season. He looks and sounds the same, but he's three years older now than when he first donned a Phillies uniform in spring training. And the truth is, an injury might be the least bit of problems if his body is simply doing what bodies do, and that is age, break down, and become less and less effective over time.
In Doc's case, it's not that unexpected. He's been a Major League starter for more than a decade and in that time, he's averaged more than 210 innings pitched a season, while leading the league in innings pitched on four separate occasions. That's a lot of mileage for a career, much less a decade. And that level of durability does come with a price, especially when you're on the wrong side of 30.
So, what does that mean for him in 2013? That's hard to say, because it depends entirely on the condition of his body, and more importantly, his right shoulder. It may have just been a nagging injury that resulted in his sub-par 2012 performance, and last season might be a blip on an otherwise pristine radar screen. But, it leaves us wondering if that was merely an aberration, or if it was the beginning of a very nasty trend.
Whatever the case may be, the starting rotation is going to be counted upon to do a fair bit of the heavy lifting next season, and for that to work, it's going to need a healthy and effective Halladay.
I fully expect Halladay to head into spring training looking to put last season far, far in his rear-view mirror. Because if there is anyone who can reverse the effects of injury and again, it's Doc.