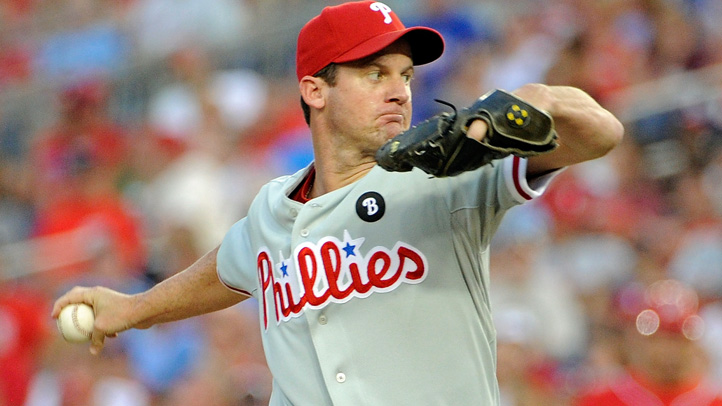 Roy Oswalt pitched eight-hit ball for eight innings, Wilson Valdez and Jimmy Rollins each drove in two runs and Hunter Pence homered to lead the Phillies to a 5-0 victory over the Washington Nationals on Saturday night.
Oswalt was supposed to start for the Phillies on Friday night, but after torrential rain arrived in the first inning, the game was delayed by 2 hours, 22 minutes, and he was scratched.
"First time I started two games back-to-back," Oswalt joked. "I told them: I keep doing that, they're going to have to pay me more."
The Phillies, winners for the 81st time this year, scored twice in the fourth and three times in the sixth as Oswalt (6-7) struck out nine -- the most since joining Philadelphia last July. He walked one and had runners on in every inning but the second and third.
Michael Stutes worked the ninth to complete the Phillies' 15th shutout of the season.
The Nationals Park record crowd of 44,685 was loudly favoring the Phils throughout the night.
"They're cheering for the other team and you wish they were cheering for you," Nationals slugger Michael Morse said.
In the Phillies locker room, a T-shirt that marked Saturday's game was draped over a chair that read: "Citizens Bank Park South."
"You get used to it after a while," Oswalt said. "It was like a small Philly. Every time we come down, we get that."
John Lannan (8-9) took the ball for Washington. The lefty allowed five runs (three earned) in five-plus innings as he fell to 1-12 lifetime against the Phils.
The Phillies will look to take their 15th of their last 17 series when they send ace Roy Halladay (15-5, 2.53 ERA) to the mound against righty Chien-Mind Wang (2-2, 4.22) on Sunday.
Copyright AP - Associated Press