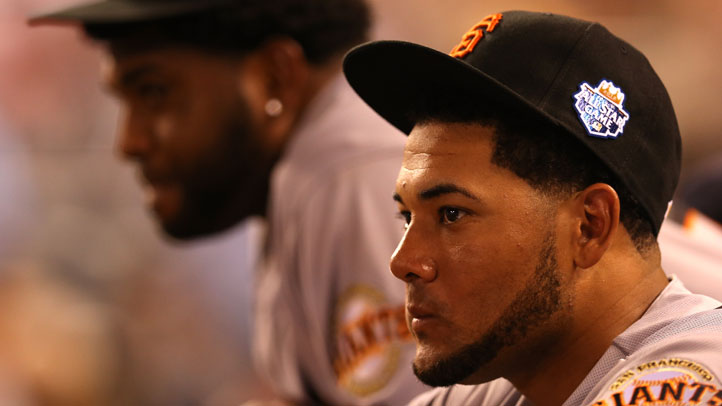 The off-season is officially upon us, which means we can now start (or continue) to speculate about the players that GM Ruben Amaro Jr. and company will be targeting in the coming months.
One name that was bandied about earlier this year that could be gaining traction is Melky Cabrera, the outfielder who spent 2012 leading the league in batting for the San Francisco Giants before getting suspended for testing positive for performance-enhancing drugs.
The 28-year-old switch hitter is an intriguing name, to say the least. He plays solid defense all around the outfielder, he can hit with some power (he averaged 14 homers a season since 2009), and he would provide the Phillies with something that they desperately need: youth.
Cabrera, who was having a career year with the Giants (.346/.390/.516) until his mid-season suspension, will likely see his value plummet on the open market, making him a much more appealing target for a team that doesn't want to sink a ton of money into a player with an inconsistent offensive record and a failed drug test under his belt.
Me? I like the idea of the Phillies pursuing him. He figures to be one of them more inexpensive options on the market, and he is coming off two seasons when he had an .849 OPS between Kansas City and San Francisco. Sure, you have to wonder how much that performance was the result of PEDs, but his price tag should be low enough that it wouldn't really matter if he can't duplicate his 2011 or 2012 performance.
And in light of that suspension, he's not going to receive the kind of contract (over $10-million per year for four to five years) that he was looking for when the season started, meaning that he could be had for much less, and not as long, as he works to rebuild his value. A cost-saving move like this will also allow the Phillies to pursue other free agents, as well, instead of focusing on just one big move (Josh Hamilton, for instance) in the off-season.
The Phillies already have a lot of money committed elsewhere in 2013, so this could be the kind of low-risk contract that is worth taking a look at.