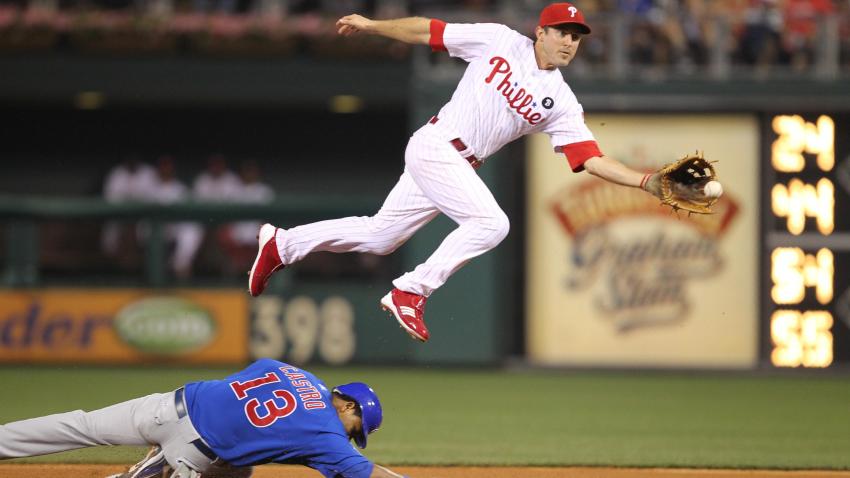 With the Phillies set to open up the season on Thursday afternoon, the team is going to have a much different look and feel than anyone expected it to have in 2012. Instead of Ryan Howard, they have Jim Thome and Ty Wigginton. Instead of Chase Utley, they have rookie Freddy Galvis and Pete Orr. Instead of a big league left fielder, they have Juan Pierre and Laynce Nix.
Needless to say, it's been a strange trip through spring training, and one that is mercifully coming to and end, when the Phils visit Pittsburgh for a three game-set to open the 2012 campaign.
While things won't resemble anything close to normal for a while for the Phillies, they might be getting some good news, especially at second base, as Utley is moving forward with the rehab on his injured knees. Cue David Murphy of The Daily News:
"In consultation with the Phillies medical staff, Utley will work with his personal therapist in Phoenix beginning Wednesday. The hope, general manager Ruben Amaro Jr. said, is that Utley would join the team some time during its trip out to the west coast. The 10-game road swing begins April 16 in San Francisco and also includes stops in San Diego and Arizona. "

Murphy goes on to comment that, just because Utley will rejoin the team, it does not mean that he will be activated or close to joining in on the action.
Best guess, I'd say that Utley is going to take a similar route back to the Majors that he took last year, by spending a great deal of time rehabbing his injury before spending a few weeks -- at least -- in the minor leagues before rejoining the team in earnest.
And if the Phillies were smart, they wouldn't rush Utley back onto the field, regardless of how much of a need they have for offense. Chase is only useful if he can be healthy and on the field, so getting him back at second base by the middle of May -- like in 2011 -- might not be the best way to go about doing things.
For now, all the Phillies can do is hope that they can hit just enough to support their Aces, until reinforcements can arrive later in the season.