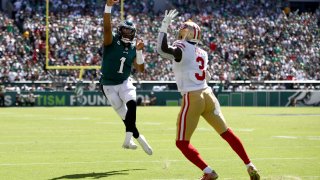 So much for all the positive vibes around this team coming out of Atlanta. 
This was a dud.
The Eagles on Sunday got outplayed and outcoached in their home opener, and they've got some big questions to answer moving forward. Especially on offense.
Here's our 10 instant observations off the Eagles' 17-11 loss to the 49ers Sunday at the Linc:
1. I did not like the offense. At all. I looked up with five minutes to go in the third quarter and the Eagles had run the ball 24 times and thrown it 15 times. Not surprisingly, they had scored all of three points. Now, the passing game was out of sorts other than a few plays, and that's a concern. But you can't just stop throwing. As much as I like the Eagles' running game — and Miles Sanders was fine Sunday — it's really hard to win in the NFL running that kind of offense. Jared Goff threw for 338 yards and three touchdowns last week against this 49ers defense. Sunday? Nick Sirianni didn't really start dialing up much of a passing game until the Eagles were down 14-3, and they had to throw. He's got to do better.
2. Other than two passes to Quez Watkins — one for 26 yards, one for 91 — Jalen Hurts had 73 passing yards. DeVonta Smith, Dallas Goedert, Zach Ertz, Jalen Reagor, Kenny Gainwell and Sanders combined for 77 yards. Other than the two Watkins catches, the Eagles' next-longest pass play was a 14-yarder to Goedert. You've got all these weapons, get 'em the ball. The Eagles took a bunch of deep shots, but there was literally no mid-range game. You can't win like that.
3. OK, only one way to put this: You cannot hit a 91-yard play and not score. You can't. It's impossible and inexcusable. There's a reason that hasn't happened in the NFL in nine years. The Hurts bomb to Watkins was a thing of beauty, and I loved the aggressive call from the Eagles' own 3-yard-line. After a 49ers penalty the Eagles had 1st-and-goal on the 1. They ran four straight plays — three passes and a run — and none of them really had a chance. And the 4th-down call — a Greg Ward version of the Philly Special — was a bad choice at that point. You have this world-class offensive line, just run your offense. The whole sequence once they got to the 1 just looked sloppy. Poor play selection, poor execution, bad result. Score there and it's a totally different game.
Philadelphia Eagles
Complete coverage of the Philadelphia Eagles and their NFL rivals from NBC Sports Philadelphia.
4. This was not a good day for Hurts. The 49ers did a nice job in coverage, and Hurts seemed to struggle when he had to start looking past his primary read. He was under more pressure than he should have been and just never got into a rhythm. He's always going to be a weapon with his legs, but he should never have to run for 82 yards. All the things that came so easily in Atlanta for him weren't there against the 49ers. We knew there would be days like this. This was still only his sixth NFL start. Let's see how he deals with some adversity with a national TV game in Dallas coming up next.
5. It's hard to complain too much about the defense. They allowed 17 points and they've given up only 23 in two games. But I do expect more from this vaunted defensive line. Obviously, losing Brandon Graham hurt, but the 49ers threw 30 times, and the Eagles didn't record a sack. The 49ers have a very good offensive line, and it really dominated the line of scrimmage, especially in the second half. Two weeks in, Eagles defensive ends don't have a sack. Jimmy Garoppolo did a nice job much of the day getting rid of the ball quickly, but for the most part this was just the Eagles' pass rushers not getting home.
6. Two games in and the Eagles still don't have a takeaway, continuing a disturbing trend of the last three years. Last week Darius Slay had a good shot at an interception in Atlanta and on Sunday Anthony Harris and Steve Nelson both got their hands on passes but couldn't finish the play. Last year was the first time since 1996 the Eagles didn't have an INT in their first two games. Now it's happened two years in a row. It's only happened three other times in franchise history. And this is the first time since 1998 the Eagles haven't had a takeaway in their first two games. You don't get a lot of chances at interceptions. You have to take advantage when they're in your hands. 
7. Big play in this game was the pass interference in the end zone on Anthony Harris on a 3rd-and-3 early in the fourth quarter with the 49ers only up 7-3. Harris was covering Mohamed Sanu, and the thing is he didn't need to interfere because Sanu was not going to catch that pass. It would have been 4th-and-3, the 49ers would have kicked a field goal and it's still a one-possession game at 10-3. Costly. And unnecessary.
8. Another play that really irked me was Derek Barnett's latest personal foul. He has a knack for bad penalties at the worst time, doesn't he? He just does not play with any discipline. He was called — correctly — for a personal foul for a late hit on JaMycal Hasty after a Garoppolo fumble out of bounds on a 2nd-and-7 in the fourth quarter. Instead of an eight-yard loss and a 3rd-and-15, the 49ers got a 1st down with a 15-yard penalty. Did it cost the Eagles the game? Probably not. But at that point you're looking for any kind of break to get some momentum. That could have been it. But Barnett couldn't let it happen. Another terrible play by the 14th pick in the 2017 draft.
9. Really, discipline was an issue for the whole team. The Eagles committed eight more penalties for 57 yards after committing 14 in Atlanta. That's 22 penalties in two games, and that ties the most in franchise history through two games. The 1947 team also committed 22. They went on to the NFC Championship Game, so maybe it's a good sign. I doubt it.
10. Finally, without knowing any details just yet, it did not look good for Brandon Graham, who suffered what appeared to be a serious ankle injury just before halftime. B.G. was helped off the field and then carted inside. This is a guy who is so loved and respected by everybody in the organization and it seemed like the whole team was in shock after he hobbled off. Not surprising as soon as he went inside that the 49ers went down the field and scored their first touchdown. Even at 33, Graham is still a very good player as well as an unquestioned leader, and if he's out for a significant amount of time it's a blow both on the field and off. B.G. hasn't missed a game because of an injury since 2011. Some guys you just think of as indestructible, and B.G.'s one of them. Here's hoping for a miracle.
NBC Sports Philadelphia's John Clark reported Graham tore his Achilles tendon and is out for the season, confirming a report by Derrick Gunn.
Subscribe to the Eagle Eye podcast:
Apple Podcasts | Google Play | Spotify | Stitcher | Art19 | Watch on YouTube