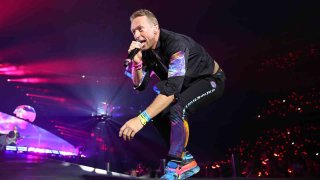 Coldplay performs 'Fly, Eagles Fly' at Lincoln Financial Field originally appeared on NBC Sports Philadelphia
Coldplay is known for a ton of hit songs from "Clocks" to "Viva la Vida."
But Wednesday night, it was "Fly, Eagles Fly" that had Coldplay fans in Philly losing their minds.
While performing at Lincoln Financial Field, the band performed a slow, acoustic rendition of the Eagles' fight song. Chris Martin serenaded the crowd as all in attendance joined in on the "E-A-G-L-E-S" chant with the band members.
Pretty good stuff.
Feels safe to assume Coldplay earned a few more fans after giving a nod to the greatest football team in existence.
NBC Sports
Powered by NBC Sports Philadelphia
Go Birds.
Copyright RSN