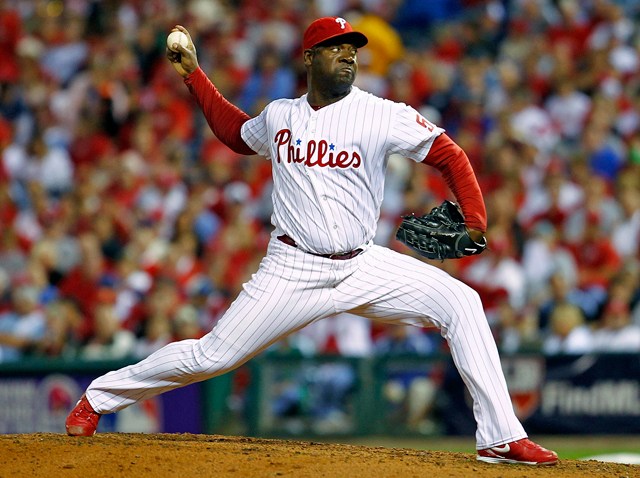 Injury news coming hot of the presses today, as the Phillies have announced that reliever Jose Contreras is heading to the disabled list due to a right forearm strain. This news is courtesy of CSNPhilly.com's Jim Salisbury, who broke the news via Twitter.
It's the second DL stint this season for The Big Truck, who has been used somewhat sparingly since returning from his first injury. He's been effective enough when he has pitched in 2011, but is clearly not the same pitcher he was in 2010. His strikeouts are about the same, but his control has suffered, as evidenced by his 5.1 BB/9.
In his place, the Phillies have recalled left-handed relief pitcher Juan Perez from Triple-A Lehigh Valley. Perez is a well traveled Minor League pitcher who has enjoyed a couple cups of coffee with the Pittsburgh Pirates in 2006 and 2007, and has spent time in the lower levels of the Red Sox, Mets, Braves and Dodgers organizations.
Perez is probably befitting of the "J.C. Romero-lite" nickname. He gets his strikeouts, but suffers from control problems and gets it handed to him by right-handed hitters, which is probably why he's spent a vast majority of his career in the Minors. He'll be a fine garbage innings pitcher, to be sure.
All told, this injury to Contreras is nothing that should be overly concerning to any Phillies' fans, provided that it isn't more serious than the brass is letting on. There are more than enough arms in the 'pen to effectively cover his absence, and the team's main priority should be getting him healthy for the second half.