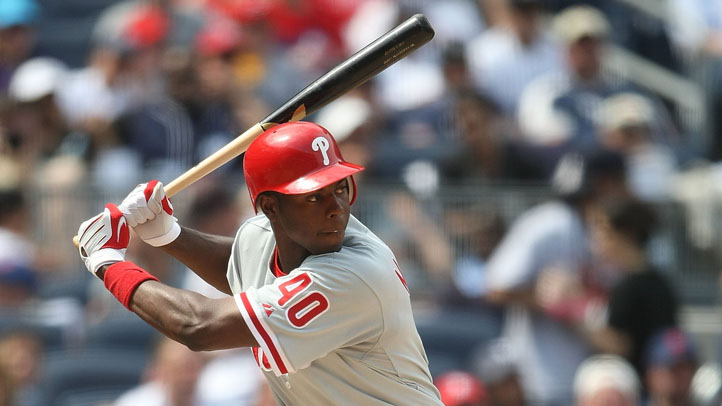 When the Phillies acquired John Mayberry before the 2009 season, it was not a transaction that came with a great deal of fanfare. Neither Mayberry, who was 25 at the time, nor Greg Golson, the speedy minor league outfielder the Phillies sent to the Texas Rangers in the deal, figured to have too big of an impact on either club in the short team, save for some depth.
While Golson has yet to do much in a big league uniform (save for throwing out Carl Crawford -- flatfooted, no less -- to end a Yankees/Rays game last season), Mayberry has flourished, at least in some capacity, with the Phillies.
Mayberry's big league debut in 2009 was a memorable one, as he homered and doubled in his first career game after being called up to replace an injured Raul Ibanez. It would be the high water mark of his career, as he was relegated to riding the shuttle back and forth between the big club and Triple-A over the next season and a half -- filling in for an injured outfielder when necessary.
This season is different. He made the opening day roster for the first time in his career due to an injury to Domonic Brown, and he responded by singling home the game winning run that capped a memorable comeback against the Houston Astros in the season opener.
Despite being sent down to the minors for two brief stints, he's mostly been a mainstay on the club, and is logging a great deal of playing time thanks to injuries, a suspension and perhaps most importantly: because he's found his stroke.
And it's for that reason that he should, again, be called upon to replace Ibanez, who has seen his batting average drop to .236 thanks to a month of August in which he's hit .161, with four doubles, no homers and six RBIs. Compare that to Mayberry, who has five homers and 12 RBIs to go along with an August line of .343/.395/.829 line. Since his recall in June, he's hitting at a .307 clip, with eight homers, eight doubles and a triple, all while playing solid defense in all three outfield positions and even first base.
Is he going to keep up that pace? Likely not. After all, there is a reason that Mayberry has been relegated to a bench for most of his career. But playing the hot hand, especially with the postseason looming, isn't a bad idea. It would be a good time for Charlie Manuel to see exactly what he has in his 28-year-old outfielder.
It's been a good ride for Ibanez, who carried the team at times over the last three seasons. But his wildly inconsistent bat, shaky defense, and now, a balky groin, should be as good an indicator as any that left field is John Mayberry's to lose.