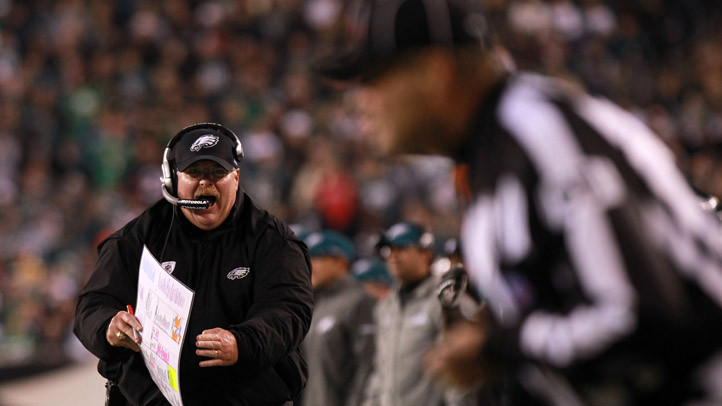 In case you missed it, the New Orleans Saints hired former Rams head coach Steve Spagnuolo to be their defensive coordinator yesterday. Spags, despite his losing tenure in St. Louis, is regarded as one of the finest defensive coaches in the sport. Any number of teams could have used him, but it was the Saints who acted swiftly and decisively, immediately improving their defense just one week after bowing out of the playoffs.

Meanwhile, in Philadelphia, Eagles coach Andy Reid is... uh... Well, I think he's still alive. I can't be entirely certain of that, given that Reid has dedicated his life to making sure that his face muscles never twitch.
Most fans and analysts agree that Reid made a huge mistake in promoting former offensive line coach Juan Castillo to defensive coordinator before the season. The Eagles defense, despite sporting any number of high profile free agents, spent most of the year looking completely out of sorts. Spags, a former Eagles assistant, would have been a perfect replacement for Castillo. But rather than act quickly, Reid did NOTHING. He sat there and allowed another team to play two playoff games and then get Spags, and now the Eagles are left with the same power structure that led to their demise in 2011.

Reid was noncommittal about Castillo's job status at the end of this season, but it's looking more and more like defensive backs coach Johnny Lynn will be the only person fired in the wake of this catastrophe. Columnist Bob Grotz even speculated that Reid told Spags to take a job with another team. It doesn't appear to me that Reid is going to fire Castillo. And if he does, why on Earth did he shuffle his feet for so long?
The glaring lack of action in the wake of this season is yet one more reason that the Eagles should end the Reid Era now, instead of waiting around for another year of poor clock management and lockjawed press conferences. It's not too late, you know. The Bucs, Raiders and Dolphins have all dragged their heels searching for a new coach. The Eagles would still have plenty of attractive candidates to choose from should they decide to part ways with Reid.
Reid's near-total silence since the end of the season has been embarrassing. It should be a clear sign to owner Jeffrey Lurie that he made a mistake earlier this month when he declared Reid safe. If he fires Reid now, he gives this team a fresh start, and he frees Eagles fans from the stultifying presence of Reid on the sidelines. This past month is yet one more indication that Reid has worn out his welcome. There's still time to act.