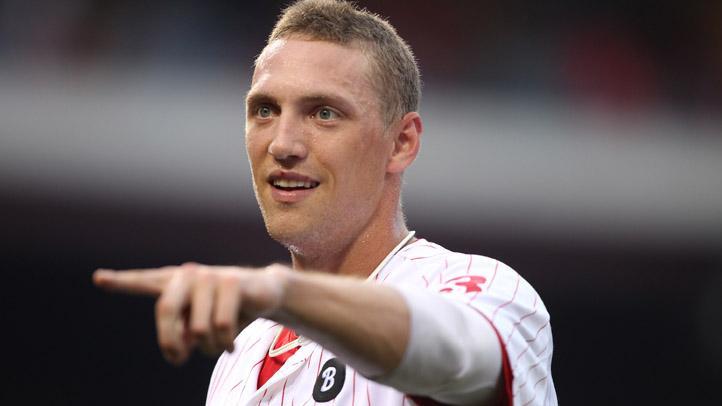 Do you have good taste in music? Do you want to help out an All-Star Phillies outfielder?
Hunter Pence is looking for a little assistance to motivate his strolls to home plate during the 2012 season at Citizens Bank Park (hopefully filled with many extra-base hits). Pence, who fans have come to love since he joined the team last July and who graces the cover of next month's Philadelphia Magazine in some old-school Phillies gear, appears open to ideas. Pence, who often takes to social media to interact with fans, tweeted Wednesday morning saying as much:
Pence came to the plate last year to the tune of country star Jason Aldean's "Dirt Road Anthem," but apparently wants something newer and/or fresher. In an interview before the 2011 season with the Astros MLB.com blogger, Pence was asked about if he could be a rock star for a day, what band he would play for? His response: "If I was going to be a rock band — this is actually a concert I want to go to and haven't been able to go to — in their prime, Metallica. The song I would play would be "One."
""It all boils down to superstition," "Video Dan" Stephenson, who's been producing videos and documentaries for the Phillies for the past 30 years, tells NBC. "With Lenny Dykstra we never had walk-up music. If we did, that song would change 10 times a week. He was that way with his batting gloves and uniforms. If he didn't get a hit he would change everything. Some guys are ultra superstitious."
Philadelphia-based rock/country band Platt Bridge created a "Let's Go Eat" anthem (clearly paying tribute to Pence's favorite post-game homage) late last year and you can watch that video below. But we want some other suggestions. Enter them here in the comments and we'll pick our favorites for a formal vote on the NBCPhiladelphia Facebook page (and then we'll try to pass along the results to Hunter himself).