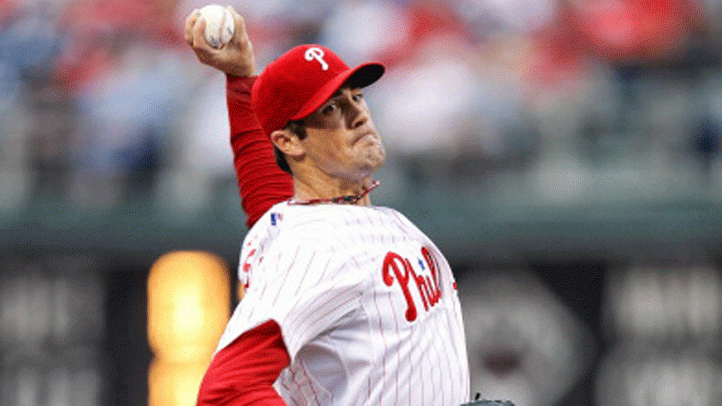 Cole Hamels pitched eight scoreless innings, finishing up by retiring Bryce Harper on a grounder as the Philadelphia Phillies snapped a season-long four-game losing streak Wednesday night with a 4-1 victory over the Washington Nationals.

Hamels (7-1) didn't allow a hit until Danny Espinosa doubled with one out in the sixth. The left-hander won his seventh straight decision, allowing four hits and striking out eight.

Hamels faced Washington for the first time since intentionally hitting the 19-year-old Harper on May 6. The incident sparked a firestorm, with Hamels earning a five-game suspension and Nationals general manager Mike Rizzo getting fined for his critical comments of Hamels.

Harper singled in the sixth. The Phillies led 3-0 in the eighth when Harper grounded out with a runner on third to end the inning.

Shane Victorino homered, doubled and drove in two runs. Adam LaRoche homered with one out in the ninth off Jonathan Papelbon. LaRoche snapped an 0-for-19 skid.

The Phillies' victory ended Washington's franchise-record six-game winning streak in Philadelphia. The Phils have won just two of their last 11 games overall, with Hamels' victory at Washington on May 6 the other one.

Carlos Ruiz doubled and singled twice while batting cleanup for the first time in his major league career. Phillies manager Charlie Manuel juggled a lineup that had scored four total runs in its last three games.

Edwin Jackson (1-2) allowed three runs and seven hits in seven innings.

Mike Fontenot hit an RBI single with two outs in the second, and Victorino's two-out double in the third drove in Hunter Pence.

After Espinosa doubled in the sixth, Harper followed with a single to right field. But Pence made a strong throw home and Ruiz made a good tag after a difficult hop in front of the plate for the out.

The Phillies went up 3-0 in the seventh when Fontenot doubled, went to third on Hamels' sacrifice bunt and scored on a suicide-squeeze by Juan Pierre.

Philadelphia shortstop Freddy Galvis made two outstanding defensive plays, robbing Ian Desmond on a chopper up the middle and later adding an over-the-head grab on pinch-hitter Steve Lombardozzi's medium fly. The crowd erupted in chants of ``Fred-dy! Fred-dy!''

Victorino homered with two outs in the eighth off Henry Rodriguez, making his first relief appearance since being demoted as the closer following Monday's game.

Harper made an excellent running catch in the fifth, racing back to the warning track to snare Pierre's liner. The ball hit and popped out of Harper's glove before he retrieved it after a step.

Copyright AP - Associated Press