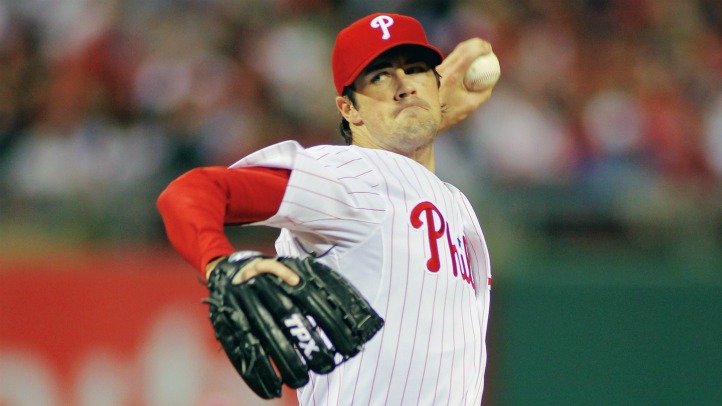 The veil of inevitablity that the Phillies have worn all season was pierced on Sunday night.
Cliff Lee couldn't hold a 4-0 lead and the Phillie bats couldn't find a way to push runs across against an indistinguished Cardinals bullpen in what turned out to be a series-tying 5-4 loss. All of a sudden, the Phillies had lost the home-field advantage they seemed to clinch back in April and they were faced with the bitter realization that a five-game series can turn against you on a dime.
Now it is up to Cole Hamels to take the ball and restore order to the Phillies' march to their World Series destiny. There are certainly worse people to have on the mound under the circumstances.
Hamels has a World Series MVP, he has a left arm blessed by the baseball gods and he had a 2011 season that would have elicited rave reviews, if not for the fact that it was only the third-best year among Phillies pitchers.

It's not like the Phillies are the Yankees and handing their season over to A.J. Burnett.
Having said that, there's still some reason to be concerned about Hamels' condition. Ever since he returned from a bout of August shoulder trouble, Hamels has shown a troubling tendency toward giving up homeruns.
In 44 innings since making his return, Hamels has given up nine homers. That's a rate of one homer every 4.9 innings. In his previous 172 innings, Hamels gave up 10 homers or one homer every 17.2 innings. For his career, Hamels has allowed just about one homerun per nine innings, so his recent results have been really out of whack with his established level of performance.
All of his other stats have remained about the same as they were before his injury, which may mean this is just a return to the mean for a player who was having an unusual amount of success at avoiding homeruns this season.
With Albert Pujols and Lance Berkman lurking in the middle of the Cardinals lineup, the reason doesn't much matter. Hamels' newfound affinity for the longball is the kind of thing that can push the Phillies to the brink if it rears its ugly head, and the team needs the guy who kept the ball in the ballpark and the opposition off the scoreboard on Tuesday night.
Anything else might mean that Philly has two dream teams off the rails at the same time.
Copyright FREEL - NBC Local Media