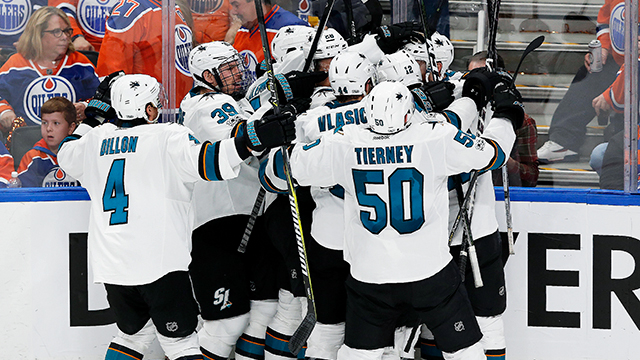 EDMONTON, Alberta -- Melker Karlsson scored at 3:22 of overtime and the San Jose Sharks came back to beat the Edmonton Oilers 3-2 on Wednesday night in Game 1 of their Western Conference series.
The Oilers jumped out to a 2-0 first-period lead only for the veteran Sharks to come back and tie the game with just over 15 minutes to play.
Philadelphia Flyers
Complete coverage of the Philadelphia Flyers and their rivals in the NHL from NBC Sports Philadelphia.
Milan Lucic and Oscar Klefbom scored for the Oilers.
Joel Ward and Paul Martin scored for San Jose.
Edmonton center Connor McDavid, the NHL's leading scorer in the regular season, had one assist in his playoff debut to extend his points streak to 15 games.
It was the first playoff game in the Oilers' new downtown arena and the team's first NHL postseason game in almost 11 years (see full recap).
Edmundson​ lifts Blues over Wild in OT
ST. PAUL, Minn. -- Joel Edmundson scored for St. Louis at 17:48 of overtime, Jake Allen made a career-high 51 saves and the Blues sneaked into Minnesota to steal Game 1 of their first-round series from the Wild with a 2-1 victory on Wednesday.
Blues star Vladimir Tarasenko was quiet for most of the night until he drove into a crowd and threaded a pass through the Wild defense to Edmundson, who knocked in the second postseason goal of his career.
Zach Parise tied the game with 22.7 seconds left in regulation for the Wild, whose dominance was thwarted by a stellar performance from Allen.
He made the most saves ever recorded against the Wild in their 16-season history (see full recap).
Fleury makes late start as Penguins beat Blue Jackets
PITTSBURGH -- Marc-Andre Fleury stopped 31 shots in a surprise start in place of injured Matt Murray and the Pittsburgh Penguins opened their Stanley Cup title defense with a 3-1 victory over the Columbus Blue Jackets on Wednesday night.
Murray was scheduled to get the nod in the playoff opener but was a late scratch after suffering a lower-body injury during warm-ups. Fleury withstood an early push by Columbus, and the Penguins responded by pulling away from the untested Blue Jackets.
Phil Kessel had a goal and an assist for Pittsburgh. Nick Bonino and Bryan Rust also scored, and Evgeni Malkin assisted on Rust and Kessel's goals in his first game back after missing the final three weeks of the regular season because of an upper-body injury.
Matt Calvert scored for Columbus in the third period, and Sergei Bobrovsky made 26 saves.
Game 2 is Friday night in Pittsburgh (see full recap).
Glass, Lundqvist help Rangers beat Canadiens in Game 1
MONTREAL -- Tanner Glass scored in the first period and Henrik Lundqvist made 31 saves to help the New York Rangers beat the Montreal Canadiens 2-0 on Wednesday night in Game 1 of their first-round playoff series.
Game 2 of the best-of-seven series is Friday night at Bell Centre.
Michael Grabner added an empty-net goal with 1:10 left to play.
Montreal outshot New York 16-5 in the first period, but couldn't beat Lundqvist.
The Canadiens are looking to avenge a six-game loss in the first round to New York in 2014, a series in which Carey Price was injured in the opening game on a hit from Chris Kreider. This time, Kreider pulled up when barreling toward Price in the first period.
Fired up by 1960s pop star Ginette Reno's national anthem, the Canadiens were all over New York in the opening period, but it was the Rangers who struck first 9:50 on only their third shot.
Montreal's Tomas Plekanec won a draw in his own zone, but fourth-line winger Glass pounced on it and lifted a backhand from the slot over Price's shoulder (see full recap).
Marchand breaks late tie, Bruins top Senators in Game 1
OTTAWA, Ontario -- Brad Marchand broke a tie with 2:33 left and the Boston Bruins held on to beat the Ottawa Senators 2-1 on Wednesday night in Game 1 of their first-round playoff series.
Marchand scored off the rebound of Patrice Bergeron's shot.
Game 2 is Saturday in Ottawa.
Frank Vatrano added a goal for Boston in his NHL playoff game, and Tuukka Rask made 26 saves. Bobby Ryan scored for Ottawa, and Craig Anderson stopped 23 shots (see full recap).
Copyright CSNPhily