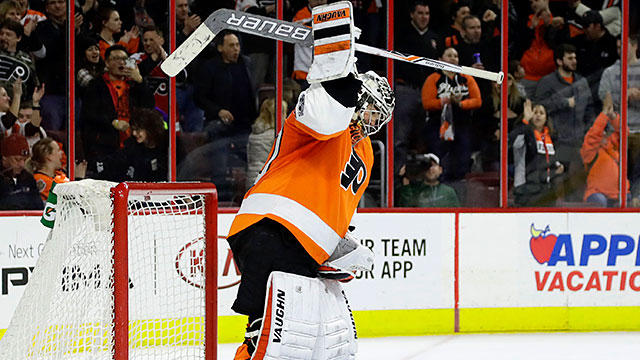 WASHINGTON - Michal Neuvirth wasn't quite himself.
Philadelphia Flyers
Complete coverage of the Philadelphia Flyers and their rivals in the NHL from NBC Sports Philadelphia.
Then again, Neuvirth hasn't been quite right for the past several days. Fighting a stomach bug over the All-Star break, Neuvirth started feeling uneasy once again after a solid opening period in Washington.
"I was trying to hydrate myself as [best] I could," Neuvirth said. "I felt energy in the first and then I sat down after 20 minutes and I was just getting tired every minute. I haven't really eaten much lately, so I was drinking a lot of water. I had one practice before the pre-game skate. It is what it is."
Head coach Dave Hakstol was not aware of his goaltender's condition and elected to make a change after the Capitals scored five unanswered goals on their way to a 5-3 victory (see observations).
"I'm not going to make too many comments on that," Hakstol said. "I'll talk to Neuvy first and that's where it will stay. It's the start that changed the complexion of the hockey game, the start of that [second] period. Obviously, the first goal against that's a tough bounce for us."
Not just a tough bounce, but Neuvirth appeared to be completely shocked that a shot would be angled in his direction as he clearly wasn't prepared to make a save. He was able to keep the initial shot out of the net, but wasn't quick to react to Chandler Stephenson, who raced in and pushed the puck across the goal line at the 2:14 mark of the second period.
"I got surprised. It was a bad goal," Neuvirth said. "It gave them life and the rest is history."
Neuvirth's admission of feeling light-headed conjured up flashbacks from a game last April 1 against the Devils when he suddenly collapsed on the ice, left the game on a stretcher and was hospitalized for precautionary reasons.
Without a healthy Brian Elliott, who has provided stability throughout the first half of the season, this Flyers team may be staring at a goaltending dilemma. For just the second time this season, they allowed at least five regulation goals in back to back games - both losses to the first-place Lightning and first-place Capitals.
Alex Lyon made his NHL debut with 10 minutes and 54 seconds remaining in the third period and stopped all five shots he faced.
"It was a good day," the 25-year-old rookie. "I got a little stain on my suit this morning. I was pretty pissed about that, but other than that, it turned out to be a pretty good day. I'm sure on the train up to Jersey tonight I'll take a moment and be happy."
With Neuvirth not feeling quite right, all signs are now pointing to Lyon making his first NHL start Thursday night against the Devils at the Prudential Center.
"I think it will really help. I've been taking the same approach every day," Lyon said.
"He went in and battled as we thought he would," Hakstol said. "He's got a very good demeanor about him and he's got a nice confidence to him, and he's very comfortable in and around our players. I wasn't too worried about what that might do down the road."
The Flyers' problems extended well beyond goaltending. The team's third defense pairing of Brandon Manning and Radko Gudas was burned for a breakaway just 47 seconds after the Capitals scored their first goal. Manning then allowed Andre Burakovsky to gain position for an easy redirected power play that allowed the Capitals to take their first lead of the game.
"The second goal, you can't let that happen," Hakstol said. "That's a sleepy play for us, a quick transition play that gets in behind our defensemen."
"They're two warriors for us," Hakstol said of Manning and Gudas. "And they've been that for our team. I'm not going to start nitpicking on the one goal tonight. We'll talk about it behind closed doors as we always do. We need them to be at the top of their game."
Wednesday's defeat was also the Flyers' first regulation loss when they held a lead after the first period. The Flyers raced out to a early advantage when rookie Nolan Patrick, on a newly-formed line with Jake Voracek and Wayne Simmonds, scored a beautiful backhand goal just 78 seconds into the game. Patrick added an assist for his first multi-point game of his career.
"I might have put that puck over the net two months ago," Patrick said about his goal. "Yeah, I'm feeling confident and I feel better every game. It's a great opportunity for me to play with both guys."
Now comes round two against Devils rookie Nico Hischier, the No. 1 overall pick in the 2017 draft.
The Flyers just need a steady presence in net.
Copyright CSNPhily