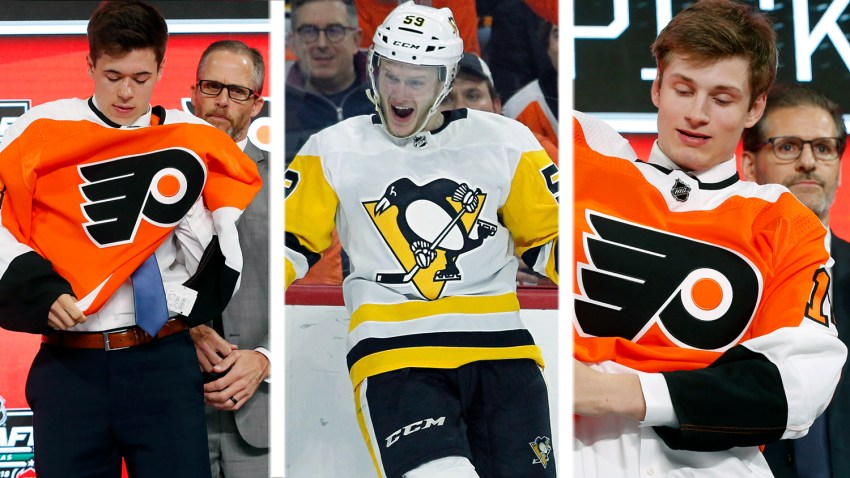 With the first round of the 2018 NHL draft now complete, we move toward a busy Saturday afternoon at American Airlines Center in Dallas.
The Flyers have seven selections left with one in the second round, fourth and sixth rounds and two in the fifth and seventh rounds.
Philadelphia Flyers
Complete coverage of the Philadelphia Flyers and their rivals in the NHL from NBC Sports Philadelphia.
On Friday night, Flyers general manager Ron Hextall did something he's never done before and something he's done quite often with his two first-round picks.
As we move onto Day 2, let's break down the night that was for the Flyers at the draft.
1. Going away to college
Pardon the Blink-182 reference, but with their first two draft picks Friday, the Flyers selected prospects headed to play college hockey.
The Flyers drafted Joel Farabee from the USA Hockey National Team Development Program with the 14th overall pick and then selected Jay O'Brien, a high school product from Thayer Academy, with the 19th pick.
Farabee is headed to Boston University and O'Brien is committed to play at Providence College, two storied programs. Under Hextall, the Flyers have now drafted nine prospects who chose the college route over major junior.
It's a testament to how far NCAA hockey has grown over the years. According to College Hockey Inc., 32 percent of NHL players played college hockey at some point, up from 23 percent in 2004.
The two newest Flyers prospects join Wade Allison, Wyatt Kalynuk, Tanner Laczynski, Noah Cates and Matej Tomek as current NCAAers drafted by the Flyers.
Outside of Shayne Gostisbehere (third round, 2012), the Flyers haven't had much success with college players. The last college player they drafted in the first round was James van Riemsdyk, who was also the last natural winger they've drafted in the first round and the last player from the USNTDP.
As college hockey becomes bigger in producing NHL players, the Flyers have to start hitting on their NCAA prospects. Other teams have already reaped the benefits such as the Pittsburgh Penguins.
Just look at the player Jake Guentzel, who played at the University of Nebraska Omaha. Interestingly enough, both Farabee and O'Brien brought up Guentzel as a comparison of themselves.
2. Expect defense-heavy Day 2
Coming into Friday's Round 1, many believed the Flyers would draft at least one defenseman with their two first-round picks and that thought came straight from the horse's mouth.
Turns out, Hextall opted for two forwards in the first round. It's a third straight draft the Flyers have gone forward in the first round - German Rubtsov (2016), Nolan Patrick and Morgan Frost (2017) and now Farabee and O'Brien.
Dating back to 2015, the Flyers' last six picks have been forwards, with Travis Konecny being the other. Their last defensemen drafted in the first round was Ivan Provorov.
While some may look at the Flyers' current situation and believe they're set at defense for the foreseeable future, they do need to restock - to borrow a Hextall term - on the blue line.
They need another wave of impact defensive prospects in the farm system now that the forwards have continued to be stockpiled.
Hextall has seven picks Saturday. We don't know how many he'll keep but we can bet that he'll come away with a few defensemen.
3. Hexy's swing
Haven't we gotten to a point where we stop doubting Hextall on draft night?
When the Flyers called O'Brien's name at No. 19, no one knew much about the kid.
I can't sit here and say that O'Brien will turn into another gem discovered by the Flyers' scouting staff - it's all projection and the Flyers' staff certainly knows a hell of a lot more than we do.
But given Hextall's draft history, Hextall earned the right to take a swing with one of these two first-round picks. He admitted there's risk with O'Brien but said he's "never been one to be safe." It creates for great draft theater for us.
4. The Wayne Simmonds dilemma
There had been speculation leading up to Round 1 that the Flyers could trade Wayne Simmonds. Sportsnet's Elliotte Friedman reported Thursday that Simmonds' 12-team no-trade list was due this week.
After the draft, Hextall was asked by reporters about it and confirmed he did not specifically ask for Simmonds' no-trade list. Hextall said reports that he asked for a no-trade list are "erroneous."
Some understanding here. As Hextall pointed out, the no-trade list is part of Simmonds' contract, which means he had to submit the list, so it's not as if Hextall went to Simmonds asking who he doesn't want to be traded to.
Friedman is as solid as you get in hockey media. His report left it open too - he simply reported that Simmonds' list was due this week.
Not many leaks with the Flyers anymore. Hextall runs a tight-lip operation and anything that does come out, it usually comes from agents or other teams. Of course, he's going to respond so hastily like he did Friday.
More on the 2018 NHL draft
• By drafting O'Brien, Hextall shows he's 'never been one to be safe'
• With Philly ties, Joel Farabee can't wait to help Flyers
• Flyers need to find needle in haystack on Day 2
Copyright CSNPhily