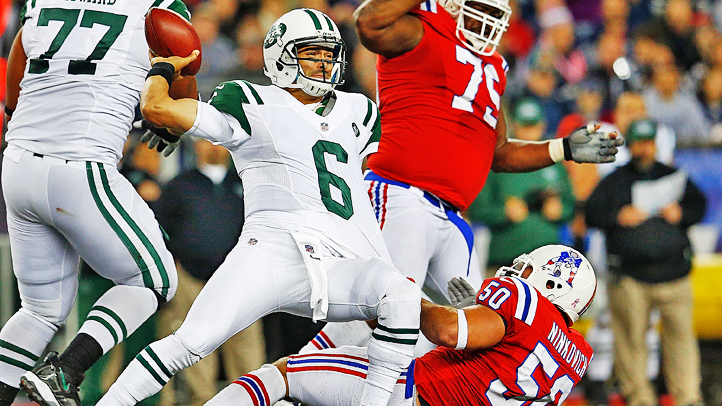 We're going to cover fantasy football all season long here at Birds' Nest by answering five questions every week about various fantasy-related topics. Let's roll.

1. Is there any chance Tony Romo can play at a consistent level?
Yes, we suppose there's a chance in much the same way there's a chance a meteor could take out the Jerry Dome before the game. It's not impossible, per se, but the odds are long. Romo's struggles aren't all on him. He's had issues with spotty play-calling, a suspect offensive line and some curious route running by his wide receivers. On more than one occasion we've seen Romo give Dez Bryant an earful after a particularly horrendous interception. The Cowboys will face a rejuvenated Redskins team, but one with plenty of questions on defense. Romo should have little trouble moving the ball on Washington but this is the same outfit that needed four hours to beat the Browns.

2. So the Jets are back, right?
Uh, no. They whipped up on the Rams, a team that won a whopping two games last season. But we did glimpse the formula that gives New York the best chance to win: run the ball a lot, rely on the defense to create turnovers, and limit Mark Sanchez to 20 passes a game. Oh, and keep Tim Tebow on the bench. But one game against a middling opponent doesn't mean much. Other than maybe tight end Dustin Keller, the Jets don't have any players worthy of fantasy recognition and if history is any guide it's only a matter of time until Sanchez reverts to his "I can't believe that just happened" quarterbackin' ways.

3. Should we be worried about Matt Ryan? Yes and no. Yes because, well, the man threw five interceptions Sunday, three in the first quarter. No because the Falcons are 9-1 and firmly in control of their destiny. But fantasy players don't care about team records. All that matters are yards, touchdowns and turnovers. In his last two outings, Ryan has three touchdowns and six picks. And we're not talking about tipped passes that ended up in the hands of defenders. We mean the type of interceptions that Philip Rivers would categorize as awful. But at this late stage, there aren't many fantasy alternatives (though, coincidentally, Rivers is probably available in your league) and when Ryan gets hot he can rack up fantasy numbers.

4. What's up with Joe Flacco? It's pretty simple, really: Flacco plays much better at home. He's made a lot of improvements since coming into the league in 2008 but he's still not an elite quarterback and probably on the fringes of those second-tier QBs trying to get into the elite conversation. That said, he throws an accurate deep ball, usually to Torrey Smith, and like Ryan, when he gets hot he's hard to stop. That usually happens in the comfy confines of M&T Bank Stadium.

5. Which Eagles player could have a breakout performance against the Panthers on Monday? Michael Vick missed last week's game with a concussion and LeSean McCoy could be on the shelf this time around. That leaves DeSean Jackson, Jeremy Maclin, Brent Celek and possibly Nick Foles as options, none particularly attractive because, well, Philly suddenly looks like one of the worst teams in football. Luckily, the Panthers are also battling for that title and it starts with their pass defense. Assuming the Eagles have someone who can throw the ball in the general vicinity of the intended target, Jackson has to be one of the few potential bright spots in what could be another disappointing chapter in a very disappointing season.