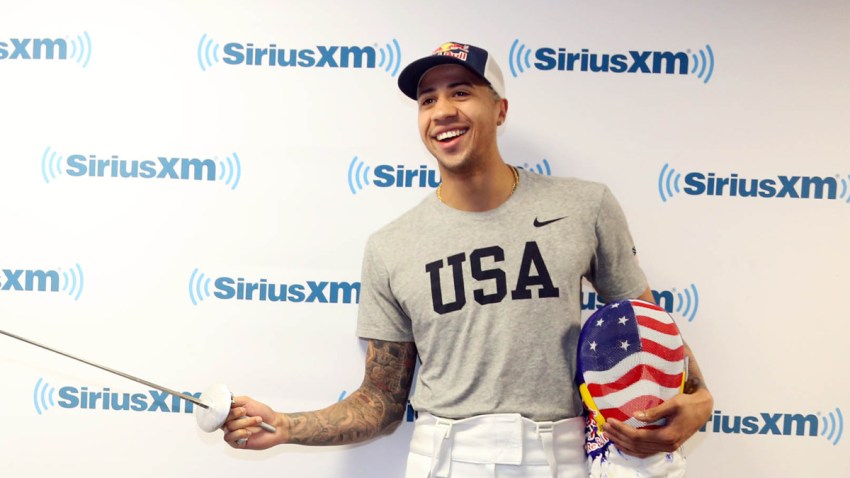 When it comes to the Olympics, Miles Chamley-Watson has kissed dating goodbye — for now.
The 26-year-old American fencer in his second Olympic Games is set to compete in the team foil event on Friday. How does a former college student transform into a world champion? Focus, seven days of training and zero carbs.
"I just eat meat. I'm a carnivore," he told E! News. The athlete needs the fuel to get through a non-stop weekly training schedule at New York gym the Dogpound, including every day in the gym working on his core, arms, legs and back, plus a half-day on Saturdays for sparring and fencing.
"I think I've reached a certain level in fencing, so I think for me it's really important for me to be in the gym [and] kind of push my body to a different limit, so I spend almost more time here than I do actually fencing," he explained to E! News.
Entire 2016 U.S. Olympic Swim Team Takes On Carpool Karaoke in Epic Rio-Bound Video
As for any mental prep, the London-born athlete only needs some good tunes and a "healthy distraction."
"That balance between training really hard and enjoying my life is really important for me," he said. "If my mind is in the right place, then I think that opens up my competition and it helps me compete at the highest level."
For right now, competing to his fullest extent means putting dating on the back burner. "My girlfriend right now is the Olympics," Miles said. "Hopefully I can marry her next week."
All jokes aside, romance is not entirely out of the question, but there really just is not a lot of free time for it.
"I really don't have that much time to really date because I don't want to half-ass it," he said. "This is kind of my job. It's kind of the most important thing for me now, but if someone comes along the way and understands, then we'll try and figure it out I guess."
Copyright E! Online