Clarks Summit, Pennsylvania, native Adam Rippon made his first appearance in Pyeongchang in a star-studded day of Winter Olympics events.

Rippon is one of the biggest American stars at the 2018 Winter Olympics. Rippon represented the U.S. in the figure skating team event, putting in an impressive performance.
Skier Mikaela Shiffrin was set to also make her first appearance as she hopes to medal in several events, but the alpine skiing giant slalom was canceled due to windy weather.
[NATL] Funny Faces of Figure Skating
Here's what you need to watch in Pyeongchang over the next 24 hours:
Adam Rippon Helps Lead Team USA to Team Bronze
Sports
In partnership with NBC Sports Philadelphia
After America's hopes for a gold medal in the figure skating team event took a hit when one of its stars, Nathan Chen, fell during his Olympic debut on Friday, plenty of pressure sat on Adam Rippon's shoulders heading into the free skate.
The Clarks Summit native didn't disappoint as he scored 172.98 with a near flawless performance that landed him third.
WATCH: Adam Rippon Skates Clean Team Event Free Skate
The men's free skate was one of three events to be held Monday (Sunday night in the U.S.) to complete the Team Event. The women's free skate and the ice dance free dance were the other two.
WATCH MORE: The Secret of Rippon's Healing Crystals | Rippon's Favorite Olympic Moments Before Taking the Ice | Sweeper Gets Bonked by Rogue Teddy Bear, Adam Rippon Helps

In the women's free skate, Mirai Nagasu became the first American woman — and third overall — to land a triple Axel in the Olympics. The 24-year-old from Montebello, California, skated first of the five women and led off her routine with the triple jump just 21 seconds in. The feat drew huge cheers from the crowd at the Gangneung Ice Arena. She finished second to Russian Alina Zagitova.
America clinched the bronze after siblings Maia and Alex Shibutani finished second in the ice dancing portion of the program. Canada won gold and Olympic Athletes From Russia won silver.
Shiffrin's Pyeongchang Debut Delayed

Mikaela Shiffrin became a breakout American star at the Sochi Olympics, where she became the youngest-ever Olympic slalom champion at age 18. She's looking to add a lot more hardware this time - and her quest for gold will have to wait.
Mikaela Shiffrin will have to wait at least another day to hit the slopes at the 2018 Olympic Winter Games. The women's giant slalom event was delayed Monday morning due to high winds, just a day after men's downhill was postponed.
Now 22, Shiffrin has committed to skiing both the giant slalom and the slalom In Pyeongchang, and she might add the other three individual women's races. Last year, Shiffrin became the first woman to win three consecutive slalom world titles in 78 years.

The women's giant slalom has been rescheduled for Thursday morning (Wednesday night in America). Shiffrin is scheduled to ski in the women's slalom event Wednesday morning.
Jamie Anderson Defends Gold Medal in Women's Slopestyle

Strong winds postponed the women's snowboard slopestyle qualifiers. As a result all 28 competitors advanced to the finals. Normally, the finals consist of three runs with each riders best score counting, but with the elimination of the qualifying round each rider will get two runs instead of three.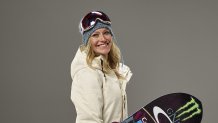 The change didn't impact Jamie Anderson. With a near flawless first run Anderson defended her gold medal.
Anderson led a strong group of Americans who were expected to contend for medals in the women's slopestyle and was considered the favorite to repeat.
[NATL] Feb. 12 Olympics in Photos: Mirai Nagasu Makes History, Anderson Wins Gold
USA's Bergsma Shoots for Gold in 1500-Meter Speedskating
Heather Bergsma entered the 1500-meter speedskating race in the Sochi Olympics as a medal favorite — but she struggled, finishing seventh. In the four years since, the American speedskater has done much to put those struggles behind her - including setting the world record in November 2015.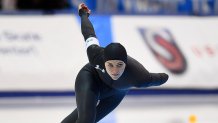 Bergsma still holds that record. On Monday, she'll get a chance at Olympic redemption in Pyeongchang.
The American faces stiff competition - Japan's Miho Takagi and the Netherland's Ireen Wust are other top contenders. Bergsma beat Wust and Takagi at the 2017 World Championships. Wust already won a silver medal in Pyeongchang, in the 3000-meter race.
Watch live on digital platforms on Monday at 7:30 a.m. Also watch the race as part of NBC10's primetime coverage Monday at 8 p.m.
And the Gold Goes to…
Snowboarder Red Gerard won America's first gold medal of the Winter Olympics on Sunday morning. Team USA will have a chance to win more hardware on Monday: Medals will be awarded in eight events.
Chris Mazdzer has claimed the first U.S. medal in men's singles luge, claiming silver just 0.026 seconds behind gold medalist David Gleirscher (AUT). No U.S. man had previously won a singles luge medal.
Here's how to watch some of the other medal events:
[NATL] In Photos: North Korean 'Army of Beauties' Cheers on a Unified Korean Team in Pyeongchang
Biathlon, Women's 10km
Watch live on NBC Sports on Monday at 5:10 a.m. or on digital platforms.
Biathlon, Men's 12.5 km
Watch live on digital platforms Monday at 7 a.m. or catch it on NBC Sports' broadcast at 12:15 p.m.
Women's Ski Jumping, Normal Hill Individual
Watch live on digital platforms Monday at 7:50 a.m. or catch it on NBC's broadcast coverage starting at 3 p.m.