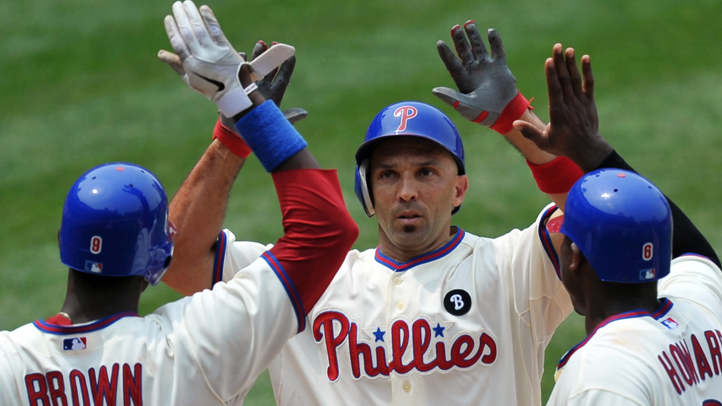 My favorite moment of the 2011 Phillies' season so far is not exactly one moment, but a band of sequential moments starting with one in particular. Early in the season the Philly Phaithful were calling for the head of Raul Ibanez. Not that this is anything new, but I felt it was a bit premature. Everyone was saying he was washed up, over the hill, a has been.

As a former object of ridicule for the Phaithful, I felt prompted to spring to his defense.
I guess the moment would be, me, the former stooge, knowing that Mr. Ibanez was not finished. And as poetic justice would have it, Raul breaks out of his monumental slump with a couple of hits, couple steaks (RBIs) and a Ruthian blast that landed deep into the right center field bleachers.

Classic! I knew he wasn't done.
So now, to date, the process of these banded moments has Raul on pace for an average Ibanez season. His average and slugging are down a bit, but whose aren't? I mean the Phightins only have one player hitting .300 or better (Polanco). Raul is amongst the team leaders in RBI (3rd) and HR (2nd).

Everyone knows that hitting can be very contagious. That could have a positive or a negative effect. If no one is hitting, as is the case with this year's Phightins then, well, nobody hits. It's as simple as that. It could also turn for the better just as easily. Let's hope for the latter.
I predict that Raul will finish the season with the numbers you're accustomed to seeing on the back of his baseball card. You just gotta love moments of triumph. Especially those moments that win over, even for an ephemeral, the Philly Phaithful. Keep it pushing Raul!