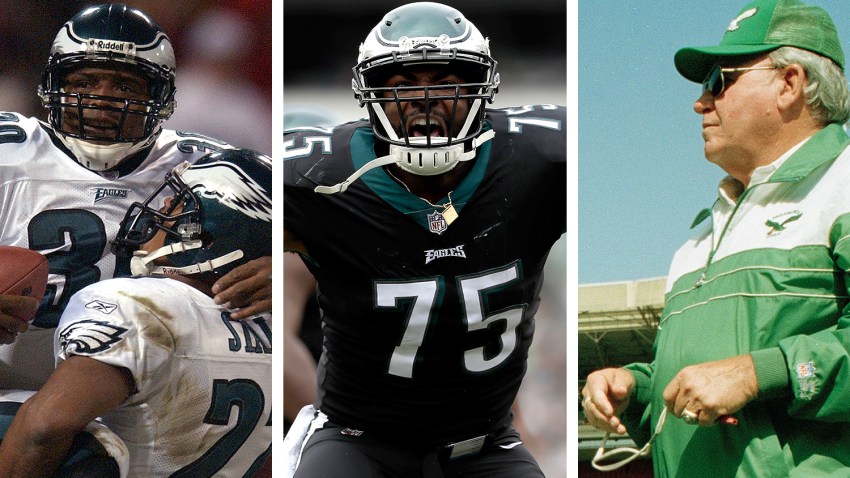 Philadelphia Eagles
Complete coverage of the Philadelphia Eagles and their NFL rivals from NBC Sports Philadelphia.
BLOOMINGTON, Minn. - Harmon Killebrew, spaghetti, NFC East quarterbacks, Brian Mitchell, Buddy Ryan vs. Doug Pederson and greased lamp poles.
Super Bowl LII keeps getting closer and Roob's 10 random Eagles Super Bowl observations keep getting random-er.
1. Vinny Curry was talking Wednesday about all the dumb questions he's been asked by various fringe media during the week. "Somebody asked me, 'Do you like spaghetti?' Seriously? That's your question? You come out to cover the Super Bowl and all you can think of is do I like spaghetti?" How did he answer? "I told her, 'We play in South Philadelphia. How could I not like spaghetti?'"
2. The Mall of America, the NFL's headquarters during Super Bowl week, was built in the early 1990s on the site of Metropolitan Stadium, home of the Twins and Vikings from 1961 through 1981. In 1967, Twins Hall of Famer Killebrew hit a legendary 520-foot home run to left-center field off Lew Burdette of the Angels. When the Mall of America was built, Killebrew's home run was commemorated in the amusement park in the center of the massive mall with the actual chair that the ball hit mounted high up on the wall above a log flume ride - the exact spot where the titanic shot landed. I can't tell you how much I love this.

Reuben Frank/NBC Sports Philadelphia
3. Somebody asked Duce Staley Wednesday about how Philly authorities greased the lamp poles so fans couldn't climb them if the Eagles beat the Vikings in the NFC Championship Game. Here's his response: "You're actually inviting fans when you say, 'You can't do it.' Because our fans, the way they think, if you tell them you can't go up there, it just makes them think, 'OK, how can we get up there.' They'll find a way to do it." Some people get it, some people don't. Staley gets it (more on that here).
4. The makeup of Pederson's coaching staff is really interesting to me. No less than six of Pederson's assistants - running backs coach Staley, tight ends coach Justin Peelle, special teams coach Dave Fipp, offensive line coach Jeff Stoutland, assistant special teams coach Matt Harper and offensive quality control coach Press Taylor - were all here under Chip Kelly. Pederson kept them all. He also kept director of sports science Shaun Huls and director of strength and conditioning Josh Hingst. A lot of head coaches as a rule don't keep any incumbent assistants. Some keep one or two. Pederson kept eight, including the strength guys. I've never heard of that before. But here they all are, part of a Super Bowl staff. This is a tremendous teaching staff, I think equal to Andy Reid's legendary 1999 staff that included seven future NFL head coaches. Give Pederson credit for having an open mind with Kelly's guys and not just coming in and cleaning house. It doesn't matter where you find good coaches as long as you find them.
5. Think about the quarterbacks in the NFC East. The Giants have 37-year-old Eli Manning, who hasn't won a playoff game since 2011. The Redskins have 33-year-old Alex Smith, who's won two playoff games in 13 years. The Cowboys have Dak Prescott, who's never won a playoff game. The Eagles? They have an MVP candidate and a guy who's about to start a Super Bowl. You can really make a case that the Eagles have the two best QBs in the division.
6. I really like the matchup between the Eagles' running attack and the Patriots' subpar run defense. The Patriots allowed 4.7 yards per carry during the regular season, second worst in the league. But it's interesting to note that the first 14 weeks of the regular season, that number was 4.9 - by far the worst in the league during that span - and the last four weeks, it went all the way down to 2.9, which was second best in the NFL over the last two regular-season weeks and the postseason. I still like the matchup. I think the Eagles' backs and O-line can wear down that New England defensive front. But Bill Belichick is the best defensive coach ever for a reason, and he has an uncanny ability to turn weaknesses into strengths.
7. There's only one quarterback at the Super Bowl who completed 82 percent of his passes in any game this year. Not Carson Wentz. Not Tom Brady. Not Nick Foles. Yep, it was Nate Sudfeld. Went 19 for 23 (82.6 percent) in his NFL debut against the Cowboys.
8. It still baffles me that Ryan was so wildly popular among Eagles fans, and watching Pederson this year has only reinforced the notion that Ryan just had no clue what he was doing. He neglected the offensive line for years. He constantly insulted players. He made fun of the owner and co-workers. He created a culture where the scouting and coaching staffs disliked and distrusted each other. A culture where insults were levied more often than compliments, where guys on the two sides of the football were constantly bickering, where some valuable, productive players were seen as outcasts just because Ryan didn't like them. Everything Pederson has done Ryan failed to do. Everything Pederson stands for Ryan ignored. No wonder Ryan didn't win a single playoff game despite a roster that included Reggie White, Clyde Simmons, Seth Joyner, Jerome Brown, Andre Waters, Eric Allen, Byron Evans, Wes Hopkins, Randall Cunningham, Keith Jackson and Keith Byars. Yet Pederson loses Wentz, Jordan Hicks, Chris Maragos, Jason Peters and Darren Sproles and gets to a Super Bowl. In Pederson's world, everyone likes and respects each other and works well together. It's a winning formula.
9. Ran into Mitchell Wednesday night, and he recalled a conversation with an elderly woman at a small grocery store near his apartment at 19th and Chestnut soon after he signed with the Eagles in 2000 after 10 exceptional years with the Redskins: "I'll never forget it. She said to me, 'You better do for us what you did against us.' My whole career with the Eagles I thought about that. Every game I played in an Eagles uniform, I thought about what she said … 'You better do for us what you did against us.'" And he did. Mitchell had four return TDs in his three years with the Eagles. Only Timmy Brown has ever had more combined punt and kick return TDs in an Eagles uniform.
10. Mind-boggling Nick Foles Stat of the Day: Foles has more playoff wins since 2012 than every other quarterback in the NFC East combined.
Copyright CSNPhily