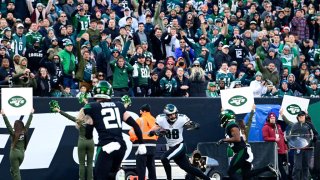 Minshew Mania, a place for improvement, more in Roob's obs originally appeared on NBC Sports Philadelphia
EAST RUTHERFORD, N.J. -- What a strange game.
The Eagles allowed the Jets and their hapless offense score three touchdowns to open the game, which can never happen. But Gardner Minshew and Company finished the game with 19 unanswered points and left MetLife Stadium much happier than they did a week earlier.
Philadelphia Eagles
Complete coverage of the Philadelphia Eagles and their NFL rivals from NBC Sports Philadelphia.
Their 33-18 win makes the Eagles 12-0 all-time vs. the Jets and 6-7 this year after a 2-5 start. Could have been a lot worse.
1. Nick Sirianni was clear all week that whatever happened Sunday, whoever started at quarterback, no matter how well they played, Jalen Hurts would remain the Eagles' starting quarterback. And I guess that's the right thing to do. Hurts doesn't deserve to lose his starting job to Gardner Minshew based on two games at MetLife Stadium – one really bad one by Hurts and one really good one by Minshew. And it's important to remember that Minshew was playing Sunday against one of the worst defenses in football. Still. The contrast between Hurts and Minshew was eye opening. Minshew used the entire field, made quick decisions in the pocket, spread the ball around, used the mid-range game, looked off receivers and operated the offense efficiently and productively in ways we just haven't seen with Hurts. And he did that despite not being here for training camp, never playing a snap with DeVonta Smith, Dallas Goedert or the other receivers and not even getting any 1st-team reps until this past Wednesday. Minshew finished 20-for-25 for 242 yards, two touchdowns, no INTs and a 133.7 passer rating – highest by an Eagles QB since his former Jaguars teammate Nick Foles had a 141.4 against the Vikings in 2018 and highest by an Eagles QB on the road since Foles' 149.3 in Green Bay in 2013. He wasn't just good. He was very good. It's going to be an interesting two weeks.
2. This should have been a lot easier, but one thing to like about this team is its ability to bounce back after bad losses. Think about it. They lost to the Chiefs, beat the Panthers. Lost to the Raiders, beat the Lions. Lost to the Chargers, beat the Broncos. Lost to the Giants, beat the Jets. They're 4-1 in their last five games after a loss, and that speaks well of the character inside the Eagles' locker room. This isn't the most talented Eagles team we've ever seen, and there have been a lot of Sunday afternoons where things just didn't come easy. And going 13 weeks without a bye is a lot. But you can tell this team believes in Sirianni and believes in itself. They've been down a lot, but they don't stay down, and that says a lot.
3. I love how Sirianni played ball control even without Hurts and Jordan Howard and largely without Boston Scott, three of the Eagles' four leading rushers. They didn't run the ball well early, but Sirianni kept dialing it up, and that kept the clock moving, the defense stayed off the field and it really allowed them to take command of the game in the third quarter, when they held the ball for 13 minutes, 50 seconds and ran 24 plays to just three for the Jets. Miles Sanders was sitting at 78 yards on 22 yards early in the fourth quarter, so the production wasn't there, but Sirianni kept feeding him, and eventually it paid off in a 34-yard run that gave him 120 yards and set up Jake Elliott's fourth field goal. I wasn't sure Sirianni would stick with the run when it wasn't putting up huge numbers. Heck, there were times early in the year where he didn't stick with the run when it WAS putting up huge numbers. Even without Hurts, Howard and Scott – not to mention right guard Jack Driscoll – the Eagles still ran for 185 yards. That's six straight games with at least 175 rushing yards with one of their top four rushers, making them the first NFL team since the 1985 Bears to rush for 175 or more yards in six straight games. That's six straight games with at least 175 rushing yards with one of their top four rushers. Yeah, they were awfully conservative after halftime, but for this team and this opponent? It made sense.
4. Quez Watkins finally got some balls thrown his way and wound up with three catches for 60 yards, his biggest game since Week 2. Watkins has been so underutilized – he's averaged just 29 yards per game since his 117-yard game Week 2 against the 49ers. He's too good not to be part of this offense, and it can't just be the occasional deep ball. He's a good receiver period. He gets open, catches the ball, gets yards after the catch. Whoever's quarterbacking this team, Watkins has to get his targets.
5. Watching Miles Sanders and Jason Kelce hobble off the field makes you realize just how tough it must be to survive 13 games without a bye week. The Eagles really grinded these last few weeks, and Sirianni was careful to keep them off their feet as much as possible, turn Wednesday practices into walkthroughs and do everything possible to keep them fresh. And they responded on gameday. The Eagles are 4-2 since leaving Vegas 2-5, and they're 6-7 overall with a real chance at a winning record. Everybody on this roster deserves a week off next Sunday.
6. One thing the Eagles didn't do Sunday that they've been doing very well is tackle. This might have been their worst tackling game this year. And that might have something to do with those 13 straight games without a bye, but you can't let Tevin Coleman average 5.3 yards per carry and let Elijah Moore and Jamison Crowder run around for a bunch of yards off short catches. The Eagles have been a solid tackling team all year, especially since T.J. Edwards started playing more. That's one thing they need to get back to for the stretch run.
7. Gotta give the defense some credit for bouncing back after an atrocious start. The Jets netted 18 points, 164 yards and 12 first downs on their first three drives and then no points, 69 yards and six first downs on their next five drives. This is the first time in franchise history the Eagles have allowed three TDs in a first half and no points in the second half. And that's seven out of 13 games the Eagles have allowed 18 or fewer points, including four of the last six. You'd love to see more consistency, but they're definitely getting better.
8. That said, you can't let Zach Freaking Wilson put three touchdowns on the scoreboard and throw two TD passes to open up a game. The Eagles kept the pressure on by scoring on their first eight drives, which is insane, and the defense finally got its sea legs. But yikes. The Eagles never should have been in the position where they had to scramble to beat Zach Wilson. The kid had thrown four TDs in seven games, and he threw two and ran for one in the first half. Can't happen. Tom Brady, Pat Mahomes, yeah, you expect that. Zach Wilson? Come on.
9. It's nice seeing Kenny Gainwell back in the mix on offense after seeing his role dramatically reduced the last month or so. Gainwell had just eight total touches in the Eagles' last four games. But with Jordan Howard out and Boston Scott coming off an illness that kept him out of practice all week, Gainwell was RB2 Sunday, and he responded with an 18-yard touchdown and five catches for 33 yards. His 55 scrimmage yards were his 3rd-most this year. Gainwell's a nice little back and a terrific receiver, and I feel like there always needs to be some role for him, at least in the passing game.
10. How about that Jake Elliott? He extended his streak to 15 straight made field goals and is now 22-for-24 this year for 92 percent and perfect inside 45 yards. I had my doubts about Elliott after his disastrous season last year - five misses, including two inside 30 yards - but he's on pace to break the franchise single-season record for field goal accuracy held by Cody Parkey (88.9 percent in 2014) and you really don't need to hold your breath anymore when he lines up for a field goal. He's money right now, and on a team that's still trying to find itself offensively and defensively, that's been huge.
Subscribe to the Eagle Eye podcast:
Apple Podcasts | Google Play | Spotify | Stitcher | Art19 | Watch on YouTube