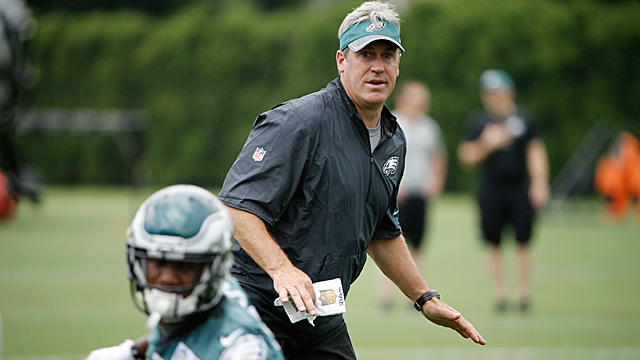 Eagles (2-1) vs. Chargers (0-3)
4:05 p.m. on FOX
Chargers -1
The Eagles will meet a winless opponent for the second week in a row, flying across the country to do battle with the Los Angeles Chargers on Sunday.
Philadelphia Eagles
Complete coverage of the Philadelphia Eagles and their NFL rivals from NBC Sports Philadelphia.
This is the one and only occasion the Eagles will play at the StubHub Center, a soccer stadium that seats 27,000 fans, and the temporary home of the Chargers. It's a truly unique setting for an NFL game, and the venue is sure to be half-filled with Birds fans.
The Eagles weren't particularly good on the road last season, finishing with a 1-7 record, and they're off to a 1-1 start in 2017. So while the Chargers may not own much in the sense of a home-field advantage, a trip to the West Coast is always a challenge.
In other words, like the Giants a week ago, don't expect the Chargers to be pushovers just because they are still seeking their first victory. The Eagles likely have a tough road ahead to get to 3-1.
'They have many ways to beat you'
For all the complaints about the Eagles' offense over the past two seasons - previously, the dearth of wide receivers, and this year, the lack of a consistent ground attack - they sure do rack up the points. As 94 WIP's Howard Eskin pointed out Friday, only the Atlanta Falcons and New England Patriots have scored 20 points in a game more frequently during that span.
Although, as Eagles coach Doug Pederson mentioned when told of that stat, the offense doesn't deserve all the credit.
"It's not just offensively," Pederson said. "Special teams is a big part of that, defense is a big part of that. So we know offensively that, 'Hey, our job is to score touchdowns.' I mean, that's the offense's job. And then if you can get that pick-six or a scoop-and-score fumble, a special teams return, that just adds - that's the bonus to it."
The Eagles' defense returned a fumble for a touchdown in the team's most recent road victory, a decisive fourth-quarter score to put the game away in Washington. And of course, Jake Elliott nailed a 61-yard field goal as time expired to beat the Giants last week - just another example of special teams that can score from anywhere on the field. This team has no shortage of ways to put up points.
But they won't have Fletcher Cox
Of course, it was Cox who recovered the fumble Brandon Graham forced in Washington, rumbling into the end zone for six. That can't happen in Los Angeles, because Cox didn't make the trip.
The good news for the Eagles is Jordan Hicks and Rodney McLeod are both likely back in the starting lineup for a defense that was missing multiple starters. The bad news is Cox has been ruled out with a calf injury. It's the first time the defense has been without its star defensive tackle since a meaningless Week 17 game in 2012, his rookie year.
Cox has 2.0 sacks and a forced fumble this season. And as soon as he went out last week, the Giants started moving the ball with ease, finding the end zone on three consecutive drives, and bringing the scoring run to four straight drives with a field goal.
The Eagles held on for a key stop on New York's final possession, but overall, it was not a great sign. Even when Cox isn't ripping down quarterbacks and tackling ball carriers, he's drawing double teams and wreaking havoc in opposing backfields. The Chargers will get a major reprieve Sunday.
The Chargers have a 10-29 record since December 2014
Whether they can capitalize on Cox's absence remains to be seen. While the Chargers have a reputation for being a tough team, the reality is they haven't been much of a threat for years.
Sure, Philip Rivers is Hall of Fame-caliber quarterback, and Los Angeles' pass-rush tandem of Melvin Ingram and Joey Bosa can absolutely devastate opposing passers. The Chargers have also lost a ton of games in the final moments, many of those in spectacularly hilarious fashion. They're not necessarily as bad as the records indicate, nor can they be taken lightly on the road especially.
But the Chargers are not a good team. They haven't been in years, and not much has changed in terms of personnel. Rivers is 35. Antonio Gates is 37. Their top-two draft picks are out with injuries, as is their best cornerback, Jason Verrett. The offensive line stinks.
This is by no means saying the Eagles should win with ease, or will leave L.A. with a victory at all. Then again, this opponent could certainly be considered a litmus test as to exactly how improved the Eagles are. A road win would look great. A loss, on the other hand, would be very disappointing.
About fourth downs …
There's not much left to say about Pederson's decision to go for it on 4th-and-8 against the Giants last week. However, there is one point that maybe hasn't received a lot of attention.
While the rate of teams that convert on 4th-and-8 may be roughly 33 percent, that doesn't take into account the fact that almost every one of those teams going for it in that situation were likely trailing. When Pederson did it, the Eagles were leading 7-0 with 2:36 remaining in the second quarter, and had a defense that was playing absolutely outstanding at the time in spite of numerous injuries.
The Eagles under Pederson are ahead of the curve when it comes to aggressive play-calling, and most of the time, that's great. Even the concept of going for it on 4th-and-8 in itself isn't necessarily a bad thing. But that call shouldn't be made strictly based on some percentage. Score, field position, time remaining, opponent and more should all be in consideration.
Pederson shouldn't automatically get ripped for going for it on fourth down, regardless of distance. Analytics may even back him in certain situations. The flow of the game also needs to dictate when and where to make those calls.
Copyright CSNPhily