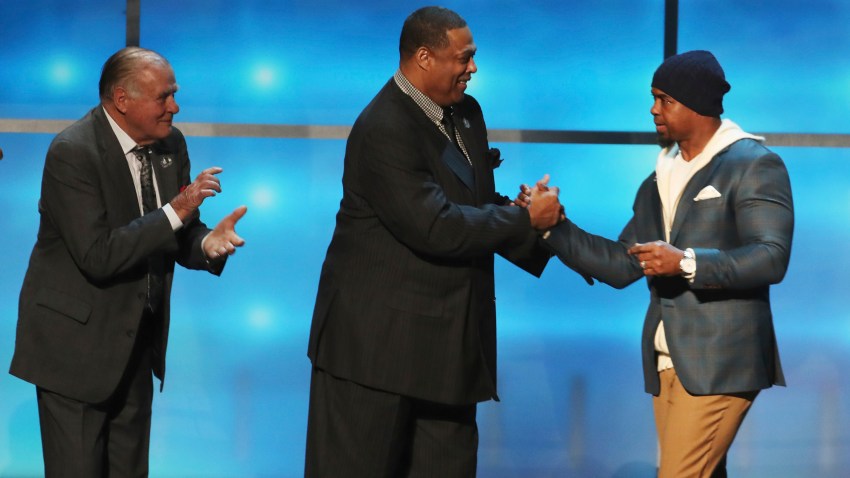 BLOOMINGTON, Minn. - Last year, it was a knock on the door with the bad news. So Brian Dawkins gave the Pro Football Hall of Fame explicit instructions this year: Don't knock on the door this time. Just give me a call with the good news or the bad news.
And late Saturday afternoon, Dawkins' phone rang with the news that he had been voted as part of the Pro Football Hall of Fame's Class of 2018 (see story).
Philadelphia Eagles
Complete coverage of the Philadelphia Eagles and their NFL rivals from NBC Sports Philadelphia.
"I could hear my daughter starting to cry in the background and my wife reacting, so I was trying to hold on," he said. "They were videotaping my expressions and the whole experience.
"I never really dreamt that this would happen. A young small safety out of ol' country Jacksonville, Fla., my hometown which I love, Duval County, would be in the Hall of Fame. The first player out of my high school to be in the Hall of Fame. The first player out of Clemson to be in the Hall of Fame. I never thought it would be me."
Dawkins, who spent the 1996 through 2008 seasons with the Eagles, is the ninth player who spent the bulk of his career with the Eagles to be selected to the Hall of Fame.
He's the first defensive back in Eagles history to make it to Canton.
He'll be enshrined along with former teammate Terrell Owens (see story) and the rest of the Class of 2018 in Canton, Ohio, on Aug. 4.
"It still hasn't sunk all the way in, it really has not," Dawkins told NBC Sports Philadelphia's John Clark after Dawkins was introduced with the other Hall of Famers at NFL Honors at the Cyrus Northrop Memorial Auditorium at the University of Minnesota in Minneapolis.
"It's kind of tough to put words behind it. You think about the things you're probably going to say if it happens, when it happens, but once it happens, it's hard for (it) to really sink in, the magnitude of what was just told to me a couple hours ago. It's a blessing."
Dawkins, who now works in the Eagles' scouting department, is the first player who spent more than three years with the Eagles to make the Hall of Fame since Reggie White was inducted in 2006.
"This is tremendous news and I could not be more proud of Brian," Eagles owner Jeff Lurie said. "Being inducted into the Hall of Fame is an honor he truly earned. He epitomized everything we love about the game of football.
"His intensity, his passion, his love of the game and his leadership were always dialed in at the highest possible level. He connected in every possible way with the city of Philadelphia and our legion of Eagles fans across the country. We cannot wait to celebrate his special night in Canton this summer."
Dawkins, who now works in the Eagles' scouting department, was a second-round pick out of Clemson in 1996. He was named all-pro four times as an Eagle and made seven of his nine Pro Bowls as an Eagle before finishing his career from 2009 through 2011 with the Broncos.
Dawkins played in 224 games and had 37 interceptions, 26 sacks, 36 forced fumbles and 19 fumble recoveries.
"I'm so full right now," Dawk said. "Such a blessing. Such a humbling thing to know that the things I was blessed to be able to do on the football field, the trust that the coaches had in me to call the blitzes and the things that they called, the trust with my teammates to sometimes be a sacrificial lamb so to speak so that I can be free on a blitz, but they knew I was going to make the play …
"All those things begin to flood back to you, about how many other individuals (made this possible), and I cannot and I will not leave those individuals out. And those beautiful, beautiful fans that everybody's trying to hate on right now. We're going to all celebrate this. Because it's not just me. They are Hall of Fame fans. Hall of Fame fans."
Dawk played in the Super Bowl that the Eagles lost to the Patriots for the Eagles 13 years ago in Jacksonville.
A win Sunday over the Patriots on top of Dawkins' election into the Hall would make this a perfect weekend.
"Everything is set up for us to go handle some business," he said. "I'm not saying the Patriots are going to just sit down and hand us anything because that never happens in the Super Bowl.
"But the way this team has fought all year? No injury has set us back. Not even one iota. Not even a little bit. Nothing has set this team back injury wise. I don't see them doing anything but coming out and fighting. Fighting to the last whistle."
Copyright CSNPhily