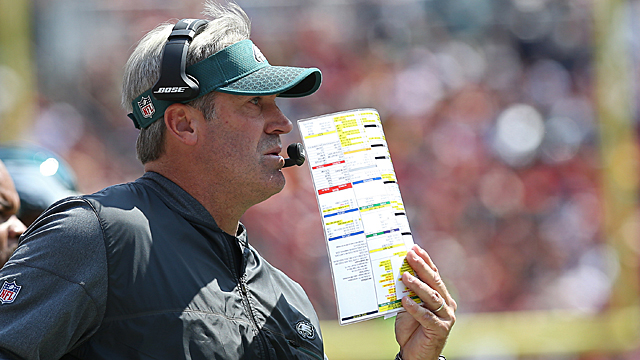 Lincoln Financial Field on Sunday featured an event so foul, so vile, and so disrespectful to America, the flag, our men and women in uniform, and the memories of the fallen that I frankly wonder how anyone could justify watching or purchasing tickets to an NFL game ever again.
I'm speaking, of course, of Doug Pederson's decision to go for it on 4th and 8 in the second quarter on Sunday. Have you ever, in your life, seen a more disgusting act on a football field? Instead of the usual nonsense, why doesn't our president send a tweet about that?
Sure, Doug got bailed out by Jake Elliott, who was carried off the field in victory after kicking a game-winning 61-yard field goal, and Carson Wentz leading a game-winning comeback drive, the kind of thing Donovan McNabb failed to do for the last five years of his Eagles career. And yes, turning the ball over to the Giants didn't technically result in any points, and the Eagles are now 2-1 and tied for first place in the NFC East.
Philadelphia Eagles
Complete coverage of the Philadelphia Eagles and their NFL rivals from NBC Sports Philadelphia.
But even so- why should Doug Pederson be let off the hook? Let us count the days until the upcoming reign of Eagles head coach Jim Schwartz and general manager Mike Lombardi.
Sure, something else happened too on Sunday, something disgusting, which also angered a whole lot of people across the nation, and for good reason. I'm speaking, of course, about… Odell Beckham, Jr., making like a dog and pretending to urinate in the Eagles' end zone in the third quarter. Beckham's antics marked a new low in the annals of disgusting behavior by Eagles opponents, breaking the record previously held by 15 different acts from over the course of Michael Irvin's career.
Would a Buddy Ryan-coached team have ever stood for an opposing player doing that, in OUR end zone? Hell no. And because there was no bounty or proper revenge taken, the Eagles know what they have to do: Score a touchdown against the Giants at the Meadowlands, and actually urinate in their end zone. Totally worth the 15-yard penalty, if you ask me.
But thankfully, we have that field goal, and the win, to celebrate. But Angelo made a good point on the morning show Monday: Elliott's 61-yard field goal was actually 70 yards, if you count the eight yards for the snap. Although if you think about it, Angelo's math may be off- if you count the 10 yards for the end zone, it was actually 80 yards. What a kick! Elliott is now my favorite Eagles kicker ever, surpassing David Akers and Carey "Murderleg" Spear.
As for that other thing? I'm okay, as long as they keep politics out of Wing Bowl. Sorry, Chris Christie, you can't compete.
Other Philly sports takes:
- Former Eagle Nnamdi Asomugha recently co-produced and acted in the movie Crown Heights, which represented Nnamdi's finest acting role since the time he acted like he deserved $60 million.
- The Angels are about to be eliminated from the AL Wild Card race, so now's as good a time as any for the Phillies to make another run at Mike Trout. How about we offer Tommy Joseph, Cesar Hernandez and Ben Lively?
- How come that radio host in New York got indicted for a multi-million dollar Ponzi scheme involving the selling of sports tickets, while Sam Hinkie continues to walk free for the same crime?
- Joel Embiid showed up at Sixers media day and says his X-rays are clear, which means he's only about six months away from returning to action.
Follow @FakeWIPCaller on Twitter
Copyright CSNPhily