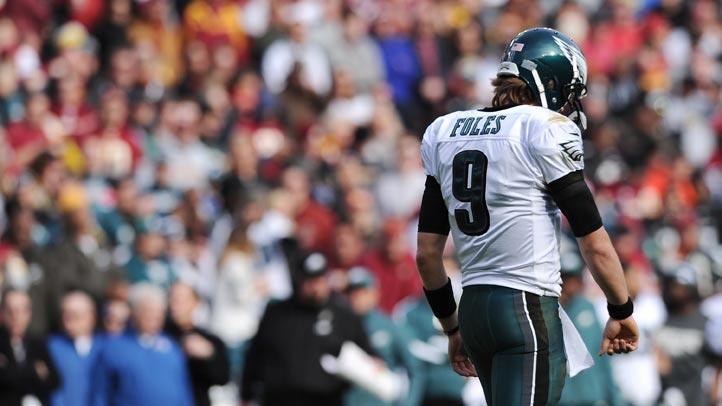 The Eagles limp into one of the least-anticipated Monday Night Football match-ups (tickets can be had for just $20 in the parking lot) the Birds have ever been in with fans looking towards the future rather than now.
Cam Newton and the 2-8 Carolina Panthers face Nick Foles and the 3-7 Eagles at the Linc Monday night.
Win and the Eagles slim hopes of a winning season – they will need to turn their six-game losing streak into a six-game winning streak for that to happen – remain intact. Lose and the Eagles jump ahead of their opponent into a Top 5 draft pick.
With all that said our football-picking "experts" are split right down the middle on the result.
Let's start with those that are drinking the Andy-Reid-can-still-get-some-wins-out-of-this-team Kool-Aid.
"The odds are too much in the Eagles favor to blow this one," said sales guy Corey. "The consecutive losing streak has to end sometime, and no easier way then against an equally poor Carolina team. Eagles 23, Panthers 13."
Birds Nest blogger Ryan Wilson picks the Birds, "mostly because THEY'RE PLAYING THE PANTHERS. Eagles roll, 10-9."
This blogger has the Eagles winning just because at this point it's the worst thing they can do for the franchise in the long run. This team right now so institute a No Wins for Geno campaign that would bring West Virginia's impressive QB to Philly. Instead I think the Birds are primed to win five of their last seven to finish the season with a losing record and without an impact draft pick. Eagles 35, Panthers 20.
Of course many people will think I'm crazy for picking Reid's Birds to win.
"Ha-ha win, that's funny," said Birds Nest blogger Brian Solomon. "31-21, Panthers. The defense that couldn't corral RGIII isn't going to find its mettle against Newton."
News anchor Tim Lake sums up the feeling of many Eagles fans.
"Hate to do it but Panthers, 17-10."
"It looks as if this is Andy Reid's swan song. It would be more correct to call it an ugly duckling though. The offense cannot score and the defense cannot tackle," said photojournalist Rich. "And, there is no reason to believe it begin to do so now. Carolina and Newton will put the end to any hopes Eagle fans may still harbor for this season with a 27-9 win."
What do you think, will the Eagles end the streak and beat Cam's Panthers?