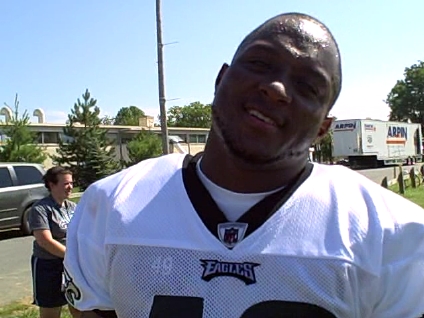 Each day of Eagles training camp NBCPhiladelphia.com will focus on different Bird trying to soar at Lehigh.
You're a seventh-round draft pick trying to make a name for yourself in your first season in the NFL – what better way to make some fans than Twitter.
Eagles linebacker Jamar Chaney has turned to social media to get a bit closer to his fans. He tweets during his down time at training camp to give Eagles fans a look at the life of a rookie.
"That's a way to let the fans know what's going on," the 6-foot, 242-pounder told NBCPhiladelphia.com.
Don't expect to see any tweets from the sidelines. But that won't stop J.C. from firing off a few tweets from his new Droid.
"Give them a little bit of the inside scoop on how my day is going -- how practice has been going."
He gave a window into the Lehigh experience following Thursday morning practice.
"Another great practice in the books! Headin to meetings now! Hope every1 is having a great day!" he Tweeted to his 2,400-plus followers.
But it's about more than just letting fans know what's up for the rookie out of Mississippi State.
"Showing them how much we appreciate everything that they do," Chaney said.
And Jamar is making sure that Eagles fans return that love to some of his teammates by mentioning Charles Scott, Ricky Sapp, Daryl Tapp and even DeSean Jackson (who likely doesn't need the help) in his Tweets.
Maybe Jamar is onto something with this whole Twitter thing -- now let's see if he can get it done on the field so that Birds fans will continue to want to follow his every move.