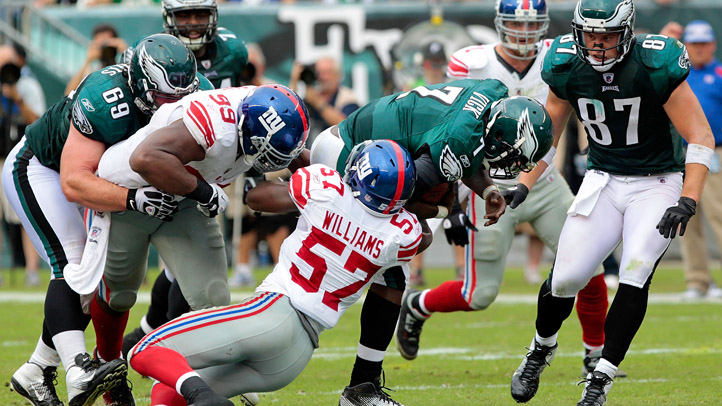 The Eagles lost Michael Vick to a broken hand but that wasn't the only reason why they lost to the Giants 29-16 Sunday -- bad defense, terrible red zone offense and penalties cost the Eagles in their home opener.
Vick was lost early in the fourth quarter after X-rays revealed he had a broken right (non-throwing) hand that he hurt after being knocked down while completing a pass to Jeremy Maclin late in the third quarter.
"It was just an unfortunate situation," Vick said. "After such a great play, I felt like I got hit late -- there was no flag -- I broke my hand."
Vick, while frustrated, says he doesn't blame the refs but says that he feels more precautions should be taken to protect him in the pocket.
"Every time I throw the ball I'm on the ground," Vick said. "Hopefully somebody will take notice."
Mike Kafka came in in relief with the Birds trailing 22-16. Kafka promptly threw an interception that led to Eli Manning's fourth passing TD.
Vick wasn't very good before leaving the game. He was a respectable 16 for 23 (70 percent) passing but managed just a 73.8 passer rating while throwing for 176 yards and a pick. Kafka was worse posting a 31 rating while going 4 for 7 for 35 yards and two picks.
After the game coach Andy Reid said Vick would get an MRI Monday to see how bad the fracture in his non-throwing hand is.
But like I said the problems weren't just the injury but inefficiency and play calling.
The Eagles were just 1 for 5 in the red zone including a Vick interception and three field goals by rookie Alex Henry. The Birds' only TD came on an 11-yard TD dash by LeSean McCoy. Shady went on to run for 128 yards on 24 carries.
Unheralded WR Victor Cruz was Manning's favorite target catching three balls for 110 yards and two scores including a 74-yard bomb that put the G-Men up 14-0 in the first quarter. Running backs Ahmad Bradshaw (18 yards) and Brandon Jacobs (40 yards) also hauled in Manning TD passes. Manning -- by the way -- posted a 145.7 rating while going 16 of 23 for 254 yards and no interceptions.
The Eagles defense was plagued by poor play from Nnamdi Asomugha, Kurt Coleman and Casey Matthews who all were beaten at some point and time for Giants' scores. The D also had issues stopping the Giants in short-yardage situations when it counted the most in the fourth quarter.
The Eagles (1-2) were also penalized seven times for 36 yards.
"Things are just not going our way right now," Vick said post game. "It's up to us to get it turned around."
The guys in green -- with or without Vick -- will try to right the ship next week against the 49ers at the Linc.