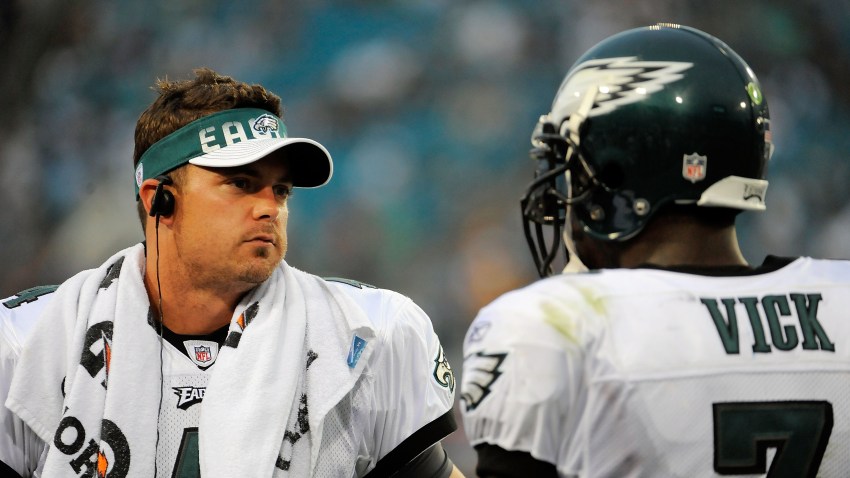 After eight games the Eagles are 3-5 while our football-picking experts dropped to 4-4 after overwhelmingly picking the Eagles to beat the Bears last week.
As we all know the Birds lost but will they continue to slide this week against Kevin Kolb (if he plays) and the dreadful 2-6 Arizona Cardinals?
Despite the Eagles' woes this season it's unanimous -- like many suicide pool players all our experts have the Eagles over the Cards.
"It's hard to pick a winner when more than half the time the Eagles actually find a new way to beat THEMSELVES," says reporter Tim Furlong. "But I have to believe the Cardinals are so bad and Kevin Kolb might not even play. I have to believe the Eagles SHOULD win by 24 points but I predict they'll just win by 10. Eagles win 24-14."
Sales guy Corey also sees the Eagles winning by double digits.
"The Eagles should be in control all game -- they easily 24-13."
Photographer Rich has the Eagles "doubling up" the Cards 34-17.
And sports producer Dean has it 38-10 Eagles.
Birds Nest blogger Brian Solomon sees an easy win as well.
"Arizona is one of the worst teams in the league. Expect a game similar to Week 1 Eagles-Rams. Eagles win 31-13."
This blogger agrees. Arizona can't run, they can't pass (with John Skelton or Kolb under center) despite having Larry Fitzgerald and their defense is nothing special.
I still see the Eagles defense giving away a few points but they should cruise to a 38-23 win.
The "expert" predicting the closest game is Birds Nest blogger Drew Magary who has it 38-34 Eagles in a shootout.
"Despite the presence of Skelton at QB, the Cards can still run the ball, and Patrick Peterson is back there returning punts. I can't bring myself to pick them, but don't be surprised if the Eagles lay another egg."
Do you agree with our experts will the Eagles fly this week or as Drew says, "lay another egg?"